I let Harrow Sweet hang quite long. They can be eaten off the tree.
Maxine has also ripened, another good pear.

Both are medium size pears.
Maxine on the left, Harrow Sweet on the right.
I waited until they turned from green to light green with a bit of yellow. I could pick them 7-10 days earlier but I have been busy.

@SMC_zone6
Do you refrigerate your Harrow Sweet? Have you eaten any? Your thought about it? It is still my top pear that I grow after trying several good ones.
Tippy . . . All of your fruit looks terrific! I have a very very young Spring Satin Pluot tree. 'Probably won't see fruit for a few more years. And your pears . . . they look great too. I had only a few Harrow Delights. Small and leathery. They just didn't develop 'right'. Maybe next year.

Karen
Go with Harrow Sweet. It has done well even in warmer zone where Bill @Auburn is. It taste better and sweeter than Harrow Delight, too.
I also have eaten Maxine for two years now. They are tasty, sweet, smooth, no grit. Another Southern pear that you and Bill may want to consider.
I did refrigerate them. And I did eat them already. I don't grow a lot of pears so don't have a lot to compare them to, but I think they're excellent
I have eaten only about 15 different varieties of Euro pears, all from either my backyard or farms (not counting supermarket pears). I still think Harrow Sweet, from my backyard, is excellent.
Tippy, I have several Harrow Sweet grafts on different trees. Just no pears yet. I'll take your advice and possibly switch the 'Delights' over to Harrow Sweet. Harrow Delight is so quick to set fruit. It was covered with blossoms last spring! Just no successful fruit.
@scottfsmith , @clarkinks , et al,
Is this Docteur Desportes pear?
I have one fruit this year. I googled for pics. The ones I found had brown skin. Mine clearly is not brown. It is a squatty, medium sized pear.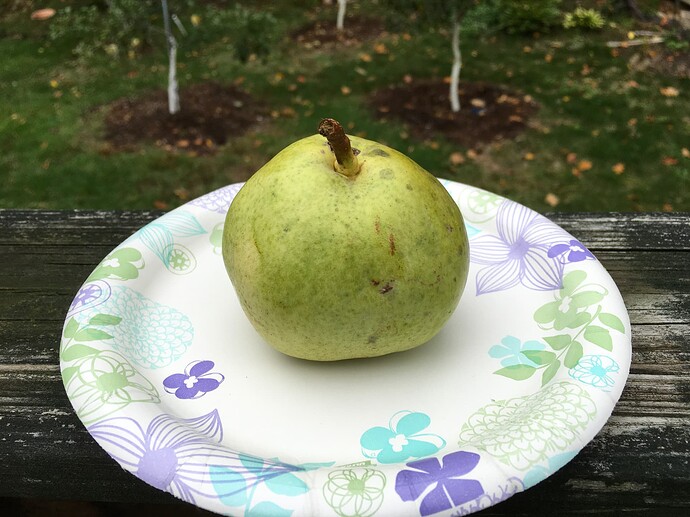 Yes I think that is it. My pears look identical to that. Here is a picture online:
The squat shape is identical. The pears in the picture have a bit more red and a touch of russet on some fruits, some of mine get that but most do not.
They are a relatively late pear, I picked mine several weeks ago but have not eaten any yet since they are still in the fridge. Let us know what you think of them!
This year I am getting some great pears. One advantage of trying many varieties and removing nearly all is you are left with some good ones!
We all agree harrow sweet is good and its the easiest pear i grow.
Thanks, Scott. The tree is in partial shade so not much sun to help with russeting.
How long do you refrigerate your DD, please? I have only one and want to get it right.
When did your Fondante de Moulins Lille ripen? Mine are still quite green. I remember mine is a very late pear.
The DD I give a couple weeks in the fridge to … it depends on exactly when they were harvested, later harvest is less fridge etc.
FdML is several weeks earlier than DD so you may have picked your DD a bit early. FdML should be more green than most pears at picking time.
That Docteur Desportes just dropped. I had no frame of reference re. its ripening time so I waited and waited. Maybe, DD should have been picked around 10/1 instead.
I read that Fondante is a mid season pear. Mine is still on the tree. I start to wonder if mine is true to label. I have tried to look for pics of Fondante but no luck.
Do you have a pic of Fondante?
You posted a picture a few years ago which looked right. Here is one of mine now… one of the last few in the fridge.
This is more round than they are usually.
Is FdML a small pear? Seems to have similar size to Seckel.
Scott,
The pic of FdM-L I took 3-4 years ago also a late (mid to late Oct) ripening pear. It tasted very good, sweet and smooth.
These past two years, animals took the pears. This year, my 2nd graft produced a few fruit, too.
The are turning from dark green to lighter green now. Some are rounder, others are not.
My biggest problem with Euro pears is that they look about the same. It is how they taste and when they ripen that help me figure out if I have the correct varieties.
Unfortunately, with poor quality wire, several tags broke off after 3-4 years.
@ahmad, my Fondante is a medium size pear. Seckel is a small pear. This year, Seckel developed tough skin. The size and the tough skin devalue it in my eyes. It is productive but I may remove it anyway.
All my pears have tough skin this year relative to other years. Not sure why. I don't really mind it, I can get used to it. No Seckels for me yet again, I had a large crop but it is the closest tree to edge of orchard and prime squirrel food.
FdML in my picture is a small one, I missed thinning part of the tree and that part produced small pears. The tree vastly oversets so much thinning is needed.