Good morning my friends. I apologize in advance for the inconvenience! If possible, I would like to ask a question!
I have some apple trees on MM106 rootstocks that started with these lesions in the grafting area on mau of 2022. The terrain is a little poor and the winter is quite rigorous, in which it Rained a lot and the land was a little soaked. Summer was also quite dry!
I ended up putting these trees in isolation and I planted others in their place, this in February of this year.As I think it could be a nutritional deficiency, I added an 8-12-12 fertilizer to the new planted trees, a 4-10-5 Liquid Rooting and also added horse manure.
Two of the new trees I planted, Belchard Chantecler and Blanik, started with this type of damage again at the graft junction. What do you think it could be?
Trees on Isolation (photos from january 2023)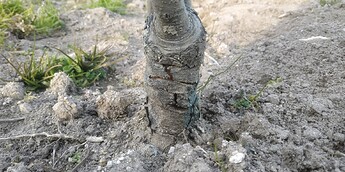 Two new apple trees planted in February this year
Greetings from Portugal!