My Imperial Star started sending up buds last week …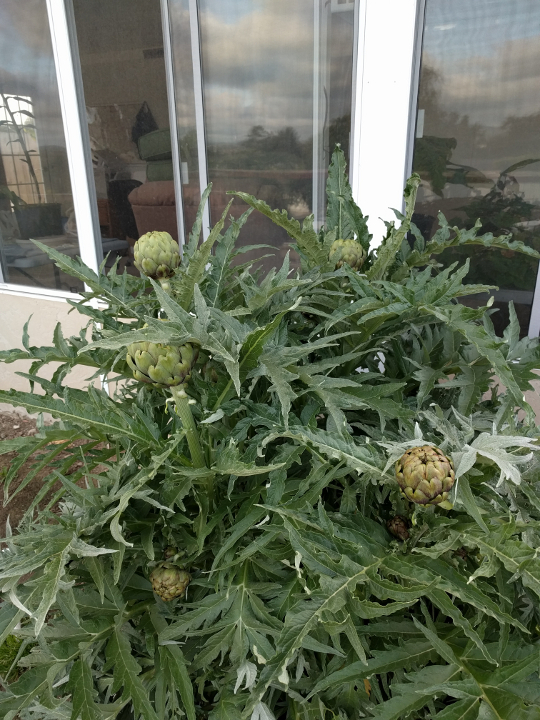 I need to replant artichokes. I took them out because the previous owner had planted them in a very poor choice of a place. Need to find some really nice cultivars. How do you like Imperial Star, Richard, compared to other varieties?
It's my favorite for our area. Cindy Pearson stocks them every year.
I've tried to grow artichokes twice but the season just wasn't long enough. I'd plant after last frost but the fall frost killed them before buds were big enough to eat. However, I've read that Imperial Star as specifically bred to overcome that very problem and to produce in one season. Anyone NOT lucky enough to live in California ever had luck with them? (Nothing against Patty and Richard, but KY/TN just "ain't" California!

To get what most of us would consider a crop, I believe you'd want a 2-3 year-old tuber system and to feed them as a tuber crop - lots of nitrogen, with a phosphate kick in the spring and a potash kick in the fall. This at least is the practice in artichoke farming regions of California.
Thanks, Richard. On my short list, then. One thing I have to watch for is gophers. They LOVE artichoke roots. Ugh. That, and fig roots. And Cityman, I understand. They grow like weeds here for us in this part of S. California. In fact, I have a ton of wild artichokes up the Water Authority road, no kidding.
Did you start yours from seed and give them chill time before setting them out, Kevin?
Richard, yours look REALLY good. I had some babies started for this year, and had put them aside in the back corner of the kitchen with the intention of up potting them for the time being. I forgot about them too long and found the withered young things just this afternoon. Seeing your pic made me kick myself again.

One of these days I'll find an area in my yard where they are happy. So far, I've found that they've done fine with our winters. It's the summer here that's done them in. I may try to do a fall planting to see if that works better in this area.
Actually I just bought small plants at a big box store early in the spring and put them out immediately. Both years they never got very big (maybe just 3 ft tall and 2 ft wide- nothing like Richards). Both times they didn't survive the winter, and as I said, didn't get big enough to eat in the one season. oh well. Sounds like you don't have any problems Muddy. Maybe I'll try again this year with some plants since its too late for seeds here (I think). Thanks
Oh, no. I do have problems. Artichokes have the same of opinion of our summers as I do. It's too darn hot.
They need shade in the summer. Mine are planted on the west face of my home for that very reason.
My artichokes grew big and beautiful last summer, but didn't crop before frost hit. We are just not in the land of artichoke here I don't think.
Once I found the real Land of Artichoke - we were driving somewhere in southern California and came across field after field of artichokes to the horizon. It was quite a sight!
I buy the 2 pack of marinated (prefer them in oil vs water) artichokes at Costco…

Cheap and delicious. I have to be careful because i could probably eat half a jar in one sitting. We use them on pizzas.
I thought there was a variety that worked in the north… grows one season, fruits the next…never tried it… Too much work

I don't recall where it was other than somewhere between SFO and LAX. On the same trip we drove through the garlic capital, Gilroy, so maybe it was Castroville.
@warmwxrules, I don't know what kind of artichoke I got but I vaguely remember hoping I would get a crop. Maybe they are supposed to come back this year. It was all my daughter's idea, she wanted to grow artichokes and she is very insistent, so I got her some

Those two places, the garlic and artichoke capitals, are right there in the same area. If there were only a butter capital nearby. . .
Hey, I do too, mine are called Bull Thistles, Patty.
Exactly. It is one of the parents in F1 artichoke seed.
First harvest, about 3.5 inch diameter buds.


Nine more on the way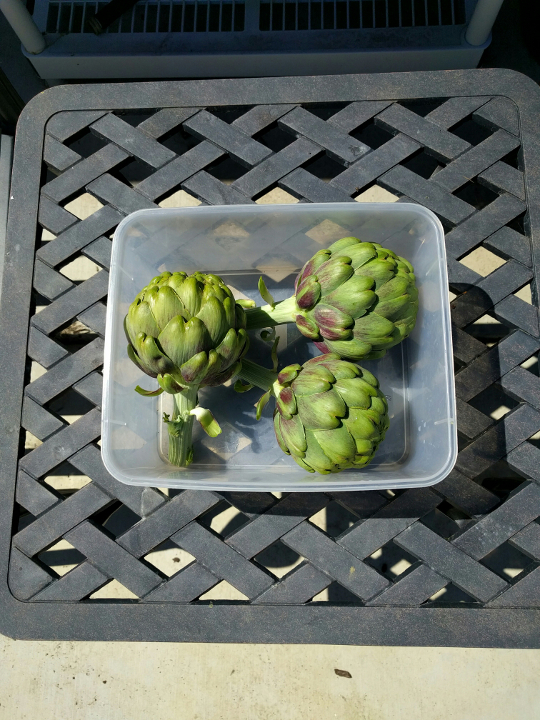 Today's harvest, more on the way