Last year I got about 2 dozen fruit for the first time from my Sunflower pawpaw tree, and one fruit from my NC-1. Those were planted in 2012. Allegheney bloomed but no fruit, planted about 2015.
This Spring I pollinated again. None took. Then Sunflower's leaves started yellowing, and fell off. The tree died. It was never a vigorous as NC1 but had reached about 7 or 8 feet tall. Allegheney then did the same thing.
I didn't have much chance to tidy up the spot. There had been some suckers from the rootstock, so I let them be.
Today I cleaned up around the dead Sunflower Pawpaw. It was interesting, one of the the rootstock suckers was about 5 feet tall, but top heavy so laying down. I tied it up reasonably vertical. The leaves were much larger and greener than those of Sunflower ever were.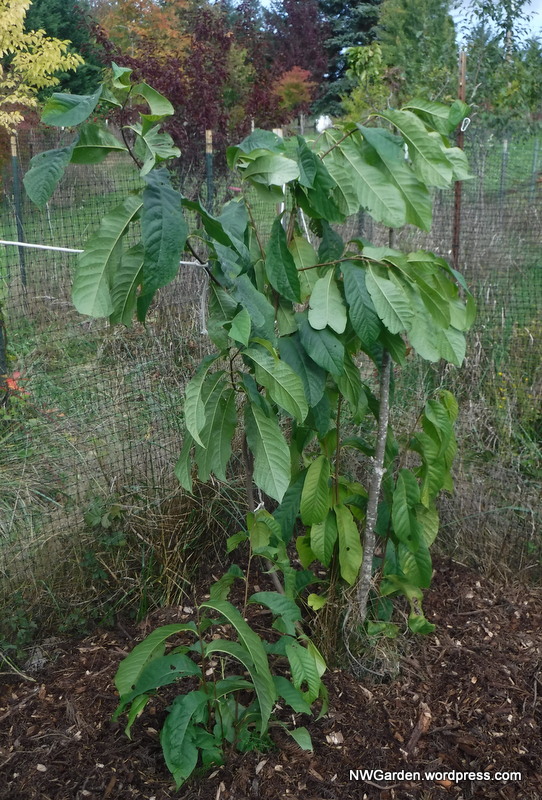 The "new tree" will need some pruning and shaping, but for now I'll leave it alone. I cleaned up, mulched, and tied it up. I don't know if it will fruit, when, or what they will be like.
Meanwhile, the NC-1 looks OK. No fruit, but tree not dead. I think the yellow leaves are expected now.
The dead Allegheney also has a green rootstock sucker growing, but smaller.
I wonder if this is a delayed graft failure. Why did the scion die, but the rootstock growth is so healthy?
I also have seedlings from last years' pawpaws, Sunflower and NC-1. The NC-1 Seedlings would probably have both NC-1 and Sunflower parents, while the SU flower Seedlings could be either both parents, or just Sunflower. I really don't know what I'll do with these.
The main thing I wonder now is if there was a graft failure, and if the rootstocks, which are just unknown seedlings, will bear and when and what they will be like