Bixby Oklahoma technically zone 6b. My O'henry is way ahead of when it should be. No full open flowers yet but not far off. Other peaches are just swelling. Santa rosa plum is a week or 2 away from open. other plums are still quiet. My new 4n1 pluot planted December of 2015 is showing life on all types. Flavor King had on tiny branch left from shipping and it is maybe a week away from opening flower. The next week is going to be more cool than the last 2 weeks so it may slow things down.

e
Mike - Is that your O'Henry in the picture? I record first leaf as well and I think I see some little leaves.
Weatherman - Have you tasted that one yet? Are you hoping to eat the flesh or the pit?
Noticed some little leaves and breba fruit on my black mission fig yesterday.
Just curious, what's the story on the red thread? Some kind of marker?
Not yet. This is the first year that it started blooming.
Yes, it's a marker. Those flowers with red thread were pollinated with apricot pollen.
Chris. It is. And yes it is leafing out. Way way too early for us. Supposed to be 25 tonight.
Mike
Can you guys see what's going on with the buds in this picture, or should I bust out my actual camera? This is my Hall's Hardy Almond, and I think it's either frost or bug damage but I'm not sure. It's like the buds at the end of the branch opened up but didn't expand out, so there's like, a hard cup with what looks like pistils in it, but no petals that I can see.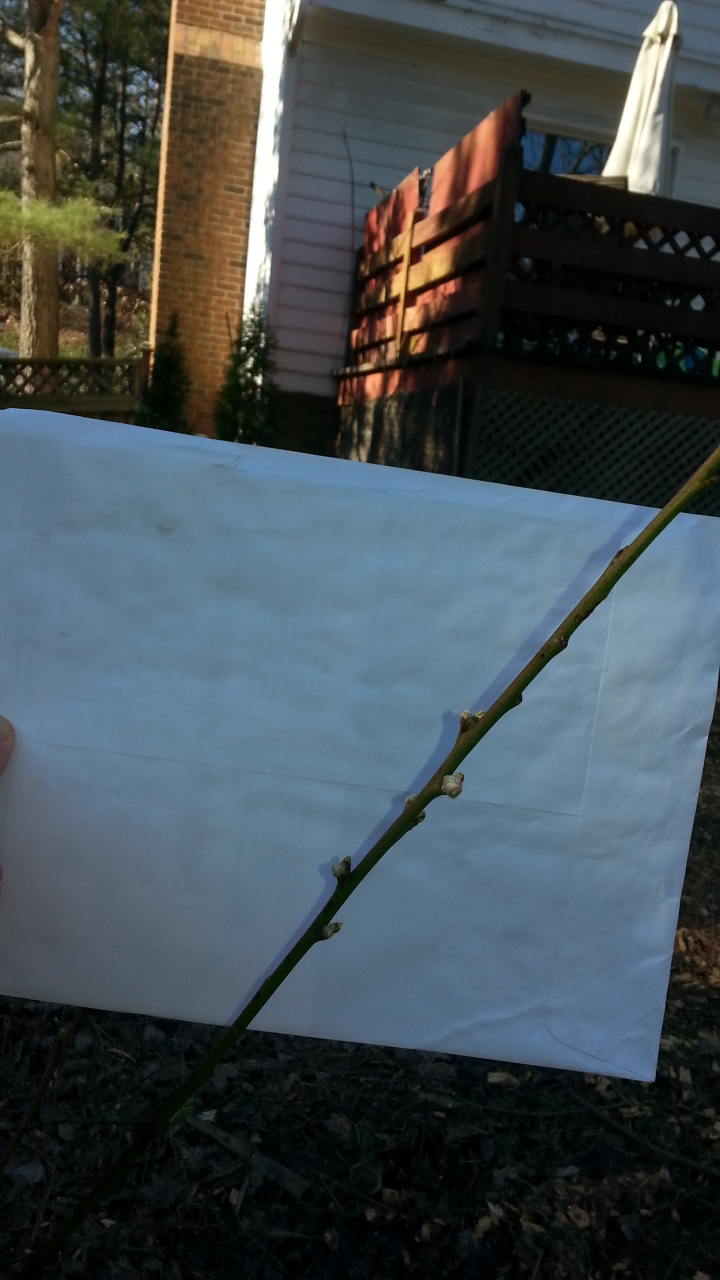 The rest of the SunRed Nectarine has been very slow to bloom, and been "popcorn" for a couple days now. It's supposed to be 60s for a couple days, so I'm expecting them to pop open even though it's cold at night still.
That's a strange one. Doesn't really look like bug damage so maybe a frost issue?
Sorry… I'm not really sure. Surprised nobody else had chimed in. Can't be the first person to encounter that.
It's gotta be that frost killed the petals. I suppose it's possible that it's not, but it just looks exactly like the nectarine's blossoms, only as if someone plucked the petals before it opened.
Sorry for the fuzzy, I don't have a great macro lens.
Bloom related question. Is there any way to tell if a fruit blossom has been pollinated relatively early in the season (before petal fall, fruit development)?
Wow, I just looked at the Garden Register site. I had no idea how expensive Scion wood was. Isn't great we trade!!!
Not that I know of. Patience is only route. Easy to tell frost killed, not if pollinated.
Just checking in again. Any movement on these?
Yes sorry. Santa Rosa and superior plum both opened at the beginning of the week. Flavor King opended the same time also but it hasn't had our winters yet so I would count that. Ranger peach opened too.
The next set of buds on my nectarine finally opened yesterday, with the Beauty Plum and Excelsor Plum right behind. The peaches are swelling, probably opening this week of warm weather. The weather report is predicting warm but unsettled weather for the next week, with a cool dip down midweek next week.