How is Tilton compared to others?
Tilton apricot is large and very sweet but does not have much flavor beyond sweetness. Also, in some years it ripens very non-uniformly — the flesh inside (around the pit) is overripe and starts spoiling while the outer part is still crunchy.

This year, I used most of the Tilton harvest for jam.

Emeraude nectarine. This white nectarine comes from the Riviera Breeding Program in southern France (the name translates es "emerald"). The tree is vigorous and very productive, it requires a lot of thinning. In fact, I should have thinned it more thoroughly. The flavor is nice, but not as sweet as Arctic Jay.

Feng Bao white peach hails from China. The tree at GRIN-ARS was grown from a seed collected from fruit puchased from street peddler in Zhengzhou, China. Seed parent fruit description is as follows: Clear white flesh, pale pink blush, free stone, about 1 pound each, firm to very firm, low acid, medium sugar, melting. The resulting variety is very similar to this description — the fruit is very large, low acid and not very sweet (brix 14-16). The Sugar Lady white peach that I ate a few days later was almost as big and much sweeter. Still, Feng Bao is a very nice, refreshing fruit.

Mark Albert's Golden Prune. Mark Albert is perhaps best known for his feijoa selections. However, this plum is a true piece of art. Very unusual skin color (gold-orange mottled with pink), bright amber, translucent flesh, and an excellent flavor. It's sweet but has a bit of refreshing acidity and also quite distinct citrus and pineapple notes (somewhat similar to Howard Miracle plum).

Bavay plum (a.k.a. Bavay's Green Gage or Reine Claude de Bavay) is a seedling of Old Green Gage selected at Mechelen (Malin) by Major Esperen in 1830s or 1840s. It's one of the most popular variants of Gage plums, and deservedly so. The tree is vigorous and extremely productive, it bears in clusters and fruits get full sugar without thinning. The fruit does not look very appealing (it's relatively small, with green skin covered with whitish bloom), but the flavor is excellent, juicy and very sweet (brix 28 — 32). The flavor is a bit different from the Old Green Gage (the latter is slightly preferable in my opinion, but they are pretty similar and of comparable quality).

There exist many variants of Gage (Reine Claude) plums. They vary by ripening time, size, shape, skin color, etc., but most have a similar flavor type, very sweet and rich. July Green Gage (Reine Claude de Juillet), mentioned above, is important because it ripens very early, Old Green Gage (the original Reine Claude) is the classic one, Bavay is very productive and sweet. Some of the later ripening varieties, in addition to Bavay, are Golden Transparent Gage, Count Althann's Gage (Reine Claude Conducta), Purple Gage (Reine Claude Violette), Jefferson, and Coe's Golden Drop.

Measured brix values: Bavay — 28-32, Golden Transparent Gage — 31, Jefferson — 28, Purple Gage — 32, Count Althann's Gage — 26, Coe's Golden Drop — 23 (this one was likely underripe). All taste very good, so difficult to choose a favorite… Jefferson is very large, honey-sweet with delicate and mild flavor, Golden Transparent and Purple are intensely sweet and flavorful.
Emerald Drop is one of the most flavorful pluots (along with Flavor Supreme and Flavor King). It does not becomes really soft, even when fully ripe. The flesh is juicy and crunchy, with intense flavor. Very high sugar (brix 32) is balanced by a good dose of acidity.

Stanley is a classic prune (blue plum), widely grown since 1920s. It's a reliable cropper, the fruit is medium-to-large, dark blue, with a greenish-yellow, meaty flesh typical for prunes. It is very sweet (brix is well beyond the limit of my refractometer, so 33 or higher), but the flavor is not just sweet, it has a hint of acidity to make it rich and very enjoyable.

Morus nigra is a revelation. I've tasted a lot of different mulberries, and some of them are very good, but none of many M. alba and M. macroura varieties taste even similar to a true M. nigra. The flavor of M. nigra is unique, it's mostly similar to a blackberry, but better.

Stan,
I wish my climates is the same as yours so I can grow all that productive fruits. Nebraska is not Cali!!!
Tony
How do you compare Emerald Drop to Flavor Grenade?
Flavor Grenade can be a different fruit depending on how ripe it is. When the fruit is still firm/crunchy, flavor is not interesting in my opinion, it's just plain sweet. When it's fully ripe and becomes really soft, it gets some interesting flavors that I like. Emerald Drop does not really soften even when fully ripe, so firm Emerald Drop is better than firm Flavor Grenade and on par with soft Flavor Grenade (although their flavors are different and some people my prefer one or the other).
Yep, we like Emerald Drop better than all the green pluots and plums. They are an awesome pluot, we like them at around 23 to 25 brix and still very crunchy. So sweet with rich orange juicy flesh, the best green pluot/ plum IMO!
What is your opinion on Orangecot? I was pleasantly surprised when try store-bought ones - sweet and juicy.
Orangecot? Never heard of such a variety. Is it even a variety name or a trademark (like Candycot, Angelcot, etc.)?
Nice report Stan, I am surprised you have so many apricots. I was living under the impression that apricots are not too popular in US, probably due to unfavorable weather condition (temperature fluctuation in most regions).
Orangecot is European variety, although not too widespread.
The European apricot breeding programs/novelties are light years ahead of USA (much like US is ahead in peaches, jap. plumsand their hybrids).
I'm in California, and most apricot varieties do very well in my climate.
I have googled an Italian paper that mentions the Orangecot variety, but I strongly doubt that this is what's sold in supermarkets in the US under the Orangecot name. Most likely it's a trade name invented by the marketer for something else.
Yeah I am quite interested in apricots (have about 20 varieties myself) and hardly heard about this one.
Check out some interesting new varieties in Europe (not tastewise, there are better ones than these)
"Donut" apricot -Piano cot

Vanilla Cot
Farbela
Red ones (I know about 10 different varieties all came out in the last 5 or so years) This is Cyrano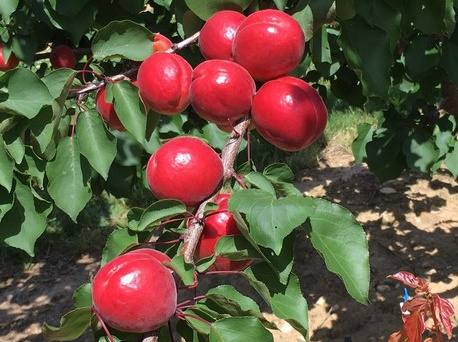 Apricot harvesting window also increased greatly, you can eat fresh apricots in my zone 7A/B from beginning of June till the end of October.
I just ate both Emeraude and Arctic Jay in my lunch today, and I like both (I don't have my refracrometer with me, but based on experience, AJ was probably a couple of points above 20 brix and Emeraude 18-20 brix). While Emeraude has a stronger flavor that I like, AJ taste is dominated by sweetness. Both are winners for me, but I rate Emeraude a hair above AJ (Arctic Star and Zephyr are both superior to these two).