First full crop of black raspberry (Bristol and Jewel in pic, plus a yellowcap raspberry from Oikos)
Does the yellowcap taste different? I'd be interested in a sucker if you have any!
A touch more tart, but otherwise very similar. Although I'm thinking I picked them not quite ripe, since I'm not sure what color they are really supposed to be.
They tip-root like black raspberries. I can definitely get you a few in fall.
You are a week or more away from fully ripe fruit, but out west, my Jewel black-caps are just now in mid-bloom.
A fully ripe black-cap will pull off easily with a gentle pluck, days after it turns black – when it is tempting to wrestle them off.
I had a few black ones yesterday. Still pretty tart, but good. I'll let the rest stay a bit longer. No sign of SWD so far (I think it's a bit early) either.
I have a yellow cap I got from the wilds of Ontario by a friend of mine who found it. The taste to me is not as good as blacks. But the plant is now 9 years old and extremely healthy. Never having disease issue and shows no sigh of decline. I used it as breeding stock and got three fantastic cultivars from it. I grow it in a container, not in the ground.

I crossed it with Niwot and got these huge primocane berries that are better than Niwot
I named it Lynn's Black (appears the color yellow is recessive)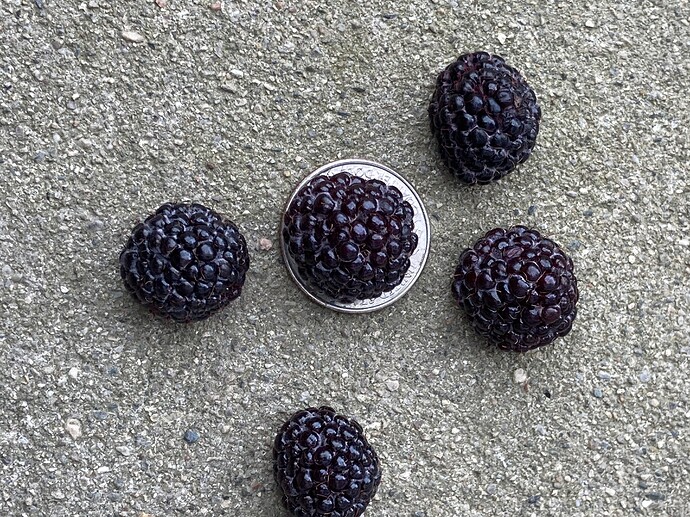 My next goal is to back cross to get a yellow primocane fruiting, but I don't have time to do it this year, maybe next year?
I also crossed Niwot with Jewel and the primocane berries (primocane fruiting is a dominant gene) are excellent, as good as floricane berries but bigger (not as big as Lynn's.)
The Drew51 images above are a good example of fully ripe vs under-ripe black raspberries.
The loose berries are fully black and have lost some of their gloss.
The on-plant berries, although quite dark, have a slight reddish cast and are very glossy.
A couple of the loose berries may be slightly over-ripe, having some collapsed druplets.
The flavor will be more concentrated but those will not be as juicy.
A typical every-three-day harvest will include some of all three ripeness levels, but with patience, most of the under-ripe fruit can be left unpicked.