I'm growing them in pots outdoor… it's the first time i'm growing them.
I've always liked the different patterns in the leaves
I just love them! It's the first time i grow them so i think it's safer to grow them in pots and take out the bulbs in winter, stock them on paper bags and replant next spring.
Although they are not Caladiums, I have a small collection of young Amorphophallus which are in the same family. I have A. Konjac, A. Konjac "nightstick", A. Bulbifer and A. Kiusianus - all of which should be hardy in my zone. Maybe next year, after I get some offsets from the bulbs as backups, I think I'll plant them out under dogwood tree to let them naturalize. And of course, as part of the group called corpse flowers, it will be much better to have them flowering outside…
My young colletion:

Each growth is just a single leaf, often with a really interesting markings on the petiole (what looks like a trunk) and intricatly disected leaflettes in the umbrella shaped leaf.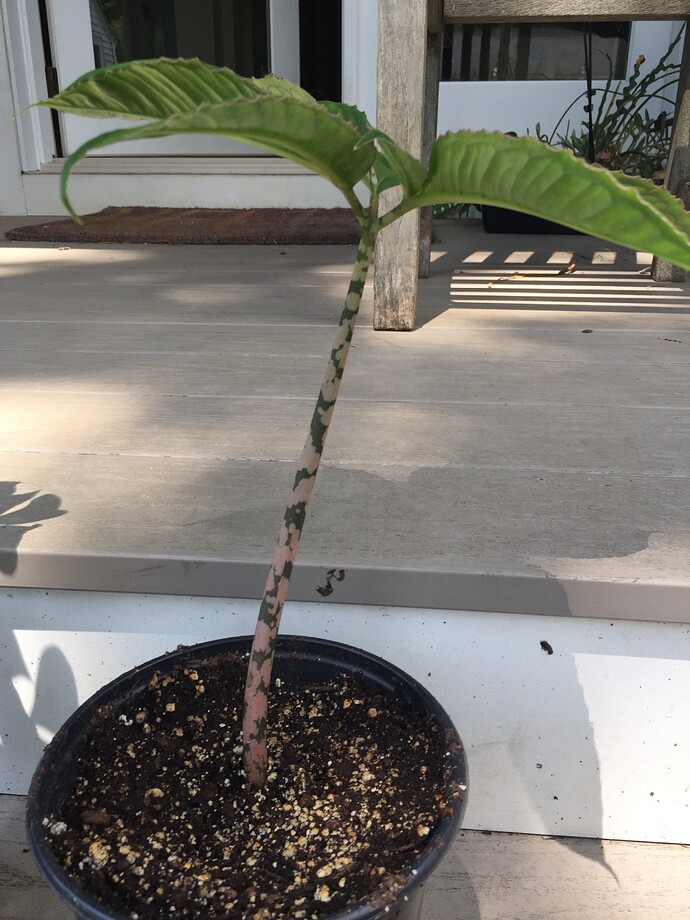 Eventually some of these will be 3-4 feet high and the single flowers may be that high as well. Be careful collecting any of these things from this family - it is like figs and you find you need to get them all! @Luisport I'm sure you'll have a 100+ Caladiums in no time!
Thank you my friend. Amorphophallus are very interesting too, specially the edible ones. I have one wild variety sent me from Malasia that people eat and will have konjac too… Yours are very beautifull!

@zendog I only have what I am assuming is amorphophallus sauromatum venosum. It looks a lot like the top two in your picture. I bought one corm for a few dollars last year and was able to split it into ten come fall. I planted all of them outside and only one didn't rear its ugly head this year!
I plan to add more to my collection in the future. Let me know if you would like to trade. 20210804_191508|690x920