Really like what they sell have you ever dealt with them
Yes, it is cool and has some unusually seeds. I bought whole bunch, including SALSOLA SODA seeds from them. The price is reasonable, wait to see the germination rates
Anyone familiar with this company?
Dealt with this company many years ago and i loved their seed back then. You will find stuff from these seed companies on this thread you wont typically find for sale elsewhere.
How was the seed you got from them? As a gardening community we know how important price is and we want unique varities. Im pretty frugal i think about gardening and orchards. It is no secret when i post a link it is because i think they have potential for one or both of those things. Many members do not have alot of money but money should never be a factor for success. Hard work should be the only thing important in success. When i suggest bulk garden seed or grafting over wild trees to produce great fruits it is that i always have our members in my heart. A person can plant seeds or fruits anywhere if it's in their mind to do it.
Many members may decide to split bulk orders from wholesale seed sellers. This company you can order a pound or more of seed and split it up. Several people have mentioned them.
Here is another i'm not familar with but sells bulk. Their reviews are mixed and they seem to need to work on the website a bit
Johnnys is selling in bulk and i'm familiar with them as well. Have not dealt with them in a few years.
This company sells by the pound but am not familiar with them
Here is another that sells small and large quantity
Not only do i like to be frugal i like the idea of food safety as well so heirloom seeds i can save for future years are favorites of mine. Again i know nothing of this company but love what i see
This company has $100 minimum order on the bulk seeds. They also sell things like Pak Choi
A company like this one speaks to my heart with $11.40 per pound spinach seed. Great selection of non gmo vegetables at the right price. This company sells real seed packets full of seeds.
At first i thought some were overpriced. They are not like the companies putting 5 or 10 seeds in a packet now and selling them for $1.50. That is the latest scam in retail seed sales. They have great asian vegetable seeds too that are hard to get. The thing is i have not dealt with them. Free shipping on $50 orders
Have often considered what to grow in the wet areas but this company sells the right seed for that
This company has some unique seed
The interface is a little clunky but the prices are reasonable
There's a place for this. To try a lot of different varieties, this will allow me to buy a small amount. If I like it, I can save seed for next year, assuming that it is an heirloom variety. That's what I do sometimes.
I'm not disagreeing with you it's the pice i dont like not the idea. They need to put 5 seeds on the packet. In some cases i saw people paid $1 per seed on tomatoes and got 3 seeds for $3. The term packet covers alot of ground giving room for dishonesty.
These seed samplers might work out for what you want. Have not dealt with this company. The more you sample the lower the price. Like i said im careful of seeds by the packet though so keep that in the back of your mind as you shop. We know if we walk in a dollar tree or walmart and see seed for .10 it is 5 seeds and thats ok but not if we are paying 100 seed prices.
The really rare stuff might go for $8 or more from individuals like lakota squash
One packet of Lakota squash seeds from our bulk seed section.
85-105 day maturity. A rare beautiful squash developed by the Lakota Sioux Indians. Skin color is orange and green bicolor. The fruit are fine grained, nutty flavor. Great for baking or fall decor. 5-7 pound fruit. That is the price of 12 seeds.
Thanks for the lead. I would like to point out that that company sells the same seeds that Dollar General sells. Also, they have a mistake on one of their pages that indicates that they bulk listed the seeds on their website, so may not really be paying attention to what they are selling: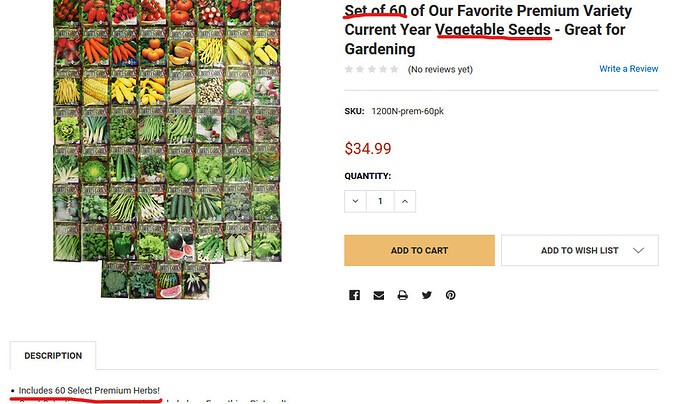 o
That is a bad sign with that company or it might be an oppurtunity to get great deals. Once i walked in a hardware store and the staff all didn't care about much and you sensed it right away. Asked the clerk about tomato plants with no price that looked bad and she called the manager to see if they could sell them. That was a good sign there was no price. How would they ever sell anything there was no price on? They asked me to take them all for $20 and asked me to take the peppers to. I agreed since there were around 7 or 8 flats total. Buried 90% of the stem of the tomato plant since they were spindly and they turned out good.
Was chicken shopping once and walked in a tractor store that had theirs far to long so they were running the isles with full wing feathers. Asked the guy if he would sell me his problems at a slight discount which he quickly agreed to. He said they flew out of their pen regularly. 40 chickens were $20. He made the price i didnt make an offer.
The seeds I bought have reasonable germination rate. Just it costs more so I only bought from that company one time.
I saw someone mentioned pine tree seeds. I have been buying seeds from them for the past 15 years at least. They have good quality seeds. Pine tree used to have good price and nice selections. But their price keep increasing recent years. I buy much less seeds from them. If I need to buy only one or two packets, I just buy for Baker creek.
There is a company in Maine sells small qty packets for less than a dollar each. For someone who likes to have more varieties and don't care about quantities, it is a good place to looking for seeds especially French seeds without breaking the bank.
Annie,
Pinetree was my go to place many years ago for the reasons you mentioned. Bakercreek has also really went up over the years. It is not just these nurseries so im not blaming them rather we see inflation all over. These less expensive seed companies will be getting alot of the business.
I've ordered bulk from Johnny's and Eden Bros. Johnny's has good germination, almost every thing from them has grown. Eden less so.
I've ordered cover crop clover from outside pride and they barely grew, I haven't ordered from them again. I'd like to find an inexpensive place to order clover again
Grew some outside pride turnips recently and had close to 100% germination. Good to know not to always expect that.