I see these trees on my walk every day, anyone know what they are and are they editble?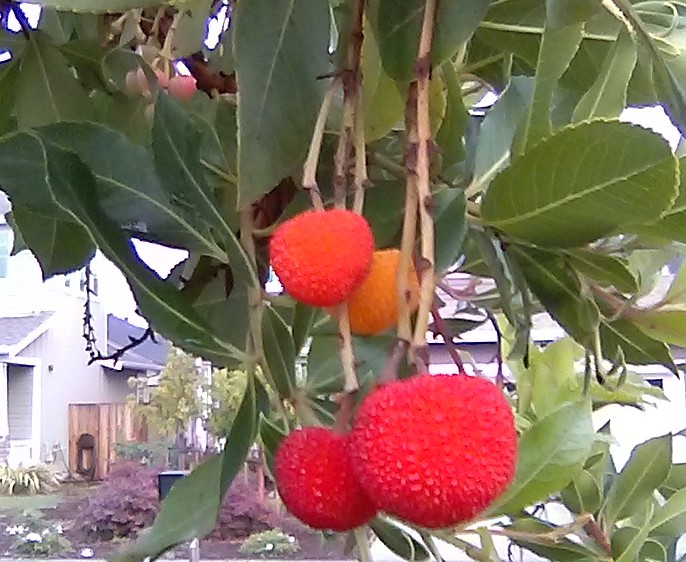 Yes they are! I have it too and i love them. It's arbutus unedo.

Sadly they apparently do not grow in zone 6 or else I would've acquired one a couple years ago. I would love to see how they taste some day.
Thanks Luisport, I found this info after your speedy ID:
Common Names:
Killarney Strawberry Tree
Madroño
Strawberry Madrone
Strawberry Tree
Description
Strawberry Tree is an evergreen shrub or small tree in the Heath family native to the Mediterranean region and western Europe. The showy red edible fruits mature in autumn and have a high sugar content but are rather bland tasting. They can be used to make jams and jellies. Fruit production is variable, dependent on the weather and the fruits bruise easily so this plant has not been grown for commercial fruit production much except for making brandy in Portugal.
It is slow-growing, about 12"-24" a year, and usually reaches a height of 15 feet but can grow up to 35 feet tall. Grow it as a shrub or trained to a tree form to show off its interesting peeling bark.
Strawberry Tree is easy to grow and adaptable to various climates and well-drained soils, including poor ones. It is tolerant of full sun to partial shade, salt, and drought once established. Lightly prune back the shoots regularly to maintain an attractive shape. Use as a specimen, for screening or as a small shade tree near a patio. With its glossy leaves, white flowers, red fruits and exfoliating bark this plant provides four seasons of interest for your landscape.
Insects, Diseases, and Other Plant Problems: Susceptible to scales and thrips. Anthracnose, Phytophthora, root rot and rust are occasional disease problems. This plant struggles in humid climates. Fruit drop can be messy near hardscaped surfaces.
https://plants.ces.ncsu.edu/plants/arbutus-unedo/
They do good in zone 7…I've seen for sale in z. 6 a couple times.
About as hardy as camillia sasanqua.
They do not seem to have pests here in Portland OR, but in a wet-winter climate, the soil needs to be very well drained or else the bush needs to be on a slope or near a retaining wall do do well long-term. Fruit varies; some is bland and some is fairly sweet. Would make a good base for chip dips if spiced up, pasty texture. Do not plant over a walkway, the fallen fruits are messy.
I have one in zone 6b in ground that has done fine going on year 2 in sheltered area
hello
if it is strawberry tree
be careful that the very ripe fruit has some alcohol …
It is the only tree that has fruit and flowers at the same time and these are for next year.
a bear and a strawberry tree appear on the shield of Madrid (Spain) …