I have a job! It's been a couple of years since university, but I finally have a job! The details on that aren't too relevant, but the important thing is: I now have disposable income… I never knew how hampered my projects were until I had cash to splurge. What was it like when y'all had disp-income for the first time?
⁂
It's been a few weeks since I started, and all my old projects started coming back to me one by one. I waited about a month, then splurged on tools to make my mother a big "Table" type raised bed. The tools are still arriving, and I hope to look for the metal next week. I've already taken measurements, and I'll be broadly following the design seen in this video:
⁂
After the raised bed, I'll be turning most of the backyard at the top of the hill into a pen, with cage-wire walls and a bird netting roof (BN because it's flexible, to allow the bananas to grow and to wrap it around the açaí palm).The purpose of the pen is two-fold: to keep cats out, and to keep pets in. I like the idea of animals having space and a naturalistic environment to feel at home without having them escape or be preyed upon (plus, if they're few for the size of the pen, no great concerns about waste-management – correct me if I'm wrong in this). The top yard is neither huge nor tiny… should be enough space for a pair of guinea pigs, a red foot tortoise, and some quail. Almost free-range, but not quite. The planting tables will be in there (not sure if they need protection from quails), and at ground level, some forage crops for the animals. Anything that needs protecting will be caged accordingly (be it the blackberry plant, or the Jaboticaba tree trunk from gnawing teeth).
⁂
After the pen, I'll be cutting down the wildling trees in the back hillside, and then I'll be terracing it for planting. Bananas, Plantains, Mafafos, Yams, Sweet Potatoes, Cassava, the works! At the bottom of the hill, another pen for the chickens, farther away from the house to allow for a slightly greater concentration. My dad wants a rooster, and we all want eggs.

⁂
Back at the top, I'll be setting up some more Mushroom containers, and in the side yard (which will be part of the pen), I just set up my first worm bins today! Now I'm just waiting on the worms in the mail. I wanna try several species, even if that's unnecessary. I'm thinking one bin for the European Nightcrawlers (allegedly a slower breeder), and another for Red Wigglers + African Nightcrawlers. Just for the heck of it, I may dump some Whiteworms and Phoenix Worms (BSF) in there for good measure. Biodiverse… The only one I don't care for is the Indian Blue Worms. I know some people like them, but their habits don't appeal to me.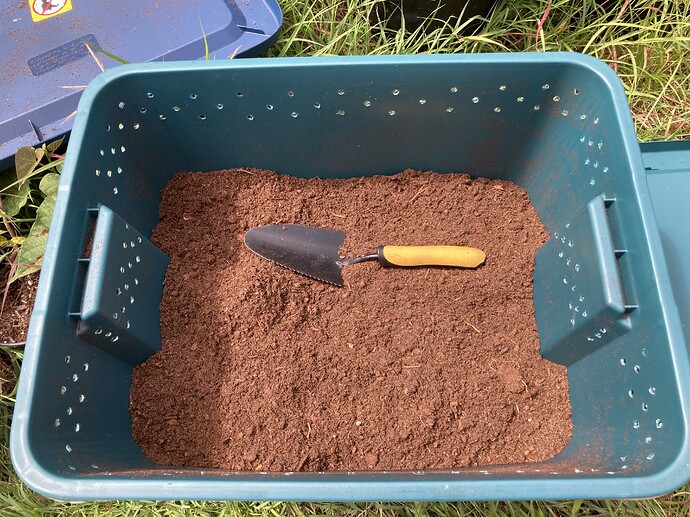 I drilled so many side holes to ventilate properly without having to drill the tops (I wanted to keep the rain out. For the two darker bins, I mixed compost with peat moss for the bedding. The third bin (light green) is an experiment in arthropod composting: mainly millipedes (plenty of those here) and isopods; I mixed the compost with hardwood sawdust (hydrated smoker pellets) for that one.
Tomorrow I'll be fixing up the trellis for the air potatoes, and filling up some tubs to plant them in. One vine is already overdue for trellising:
⁂
Y'all have no idea how hard it's been trying to avoid an all-out shopping spree for all the fruits I've wanted to grow over the years. And then I saw the thread recommending "Queen of the Amazon"…
I caved today, and splurged my last eighty bucks. Next check comes Friday. My projects are still ongoing, so I have to budget carefully.
In the meantime, my strawberries (Seascape and Mara Des Bois) have been bearing well now that I've stuck 'em in a raised bed.The tropical heat doesn't bother 'em one bit. Also got my first Jaboticaba today (a red hybrid). I'll be giving it to my mother when she comes home.
⁂
Who else is overloaded with projects? How do you handle budgeting concerns?