I've used buckets, milk jugs, sheets, plastic drop cloth. What works best for you? Simplicity is a bonus.
Plant them in a large black pot… (mine are in 2.6 gal pots now) with a good mix of garden dirt and compost.
When late frosts or cold spells come… bring them inside.
Put them back out once warm enough again.
Tomatoes do not grow well when planted in ground when the ground is still cold.
They grow much better in a black pot… the soil warms up nicely… much better than in ground.
This lets you delay planting in ground until the ground is warmer and all danger of late frost or cold spell is over.
…and 2.6-gal pot is not too large, keeps plants from getting root-bound before in-ground soil is warm enough.
Let's say a fellow had already planted his tomatoes out in the garden…
If they are small enough to cover with plastic 5 gal bucket… that should help… if getting bad cold… cover your bucket with a old blanket, bed sheet,… i have used cheap Styrofoam coolers…
But now days… i do the black pot thing… works great.
Good Luck !
I put my 1 gallon plants out in the morning and in at night until the outside soil is warm
Cotton cloth/canvass is probably the best. Plastic is not as good in keeping frost /freeze damage from happening. But any cover keeps frost off so long as material isn't touching the leaves of the tomato plants. (Freezes are a bit tougher…keeping cold air out helps there…gains you a degree or three.)
I've had tomatoes in the ground 15 or 16 days…starting to bloom…plants doubled in size.
35 to 38 is the forecast Monday morning…but if that holds, I'll do nothing.
80's Thursday…then hopefully some rain and cooling but not freezing.
After transplanting seedlings outside, usually in April, I always cover them with a poly tunnel. I've never lost a single plant to frost in almost 40 years here, in the Pacific Northwest.
Back around 1990… i had a big garden … 100+ tomatoes but i was not a fan of cherry tomatoes and had none. My wife wanted some cherry tomatoes… so i picked up a 3 pack at local nursery.
It was still early spring and at that time i was using the wall of water things to protect tomatoes planted early from cold /frost. I also covered them with what ever i could find to help when those cold nights came along.
Well when i planted those cherry tomatoes… i planted two in ground in my garden… but the 3rd one i planted in a 1 gal black pot with a nice compost mix.
I set the one in the black pot out in the garden row between the two cherries planted in ground.
We had 3 or 4 cold nights in the next 3 weeks… and the two that were planted in ground… protected by wall of waters and covered more to protect… they survived just fine.
The one in the black pot sitting right between the other two… on those cold nights… i simply brought it inside… and then sit it back out when +45 or so again.
The sunshine on that black pot warmed the soil / compost mix up nicely in that black pot…
At the end of that 3 weeks the one plant in the black pot was twice as large as the other two planted in ground. It had really taken off and was growing nicely… the other two had hardly grown any at all… they were still alive… but had made very little progress.
We are supposed to get 39… 38… Sat/Sun nights. My tomatoes will be in the garage in the black pots… more like 55 degrees in there. Once the sun comes out and we get 45+… i will sit them back out in my hot spot again … south side of house… heat reflecting off brick wall, ground slopes to the south.
They will tripple easily in size in 2-3 weeks in the black pots… then get planted in ground first week in May which is normally quite safe for going in ground for tomatoes here and the ground has warmed up enough that they actually start growing.
.
That is my black pot discovery story.
TNHunter
Planted 17 days ago…from a 4-pack bought at Tractor supply in late March…blooming yesterday. Rutgers variety. No covering since planting.
But, this is one of those once in 2 decades sort of springs. Last 3 or 4 years, got so cold in April many things got damaged.
and… @BlueBerry … if you had it in a black pot above ground in a hot spot, sunny location… it would probably have fruit on by now.
Bringing them in on those nights below 40… and when warm and sunny keeping that above ground black pot out there soaking up the sun and heat… just helps them along more than being planted in the ground does.
a 10 degree average warmer soil temp for 3-4 weeks early spring… is good news for a tomato.
Yes, you're preaching to the choir…all my apples in pots finished blooming about 7 days ago except for one cultivar. Those in ground are just finishing.
Your high tunnel has kept you in 'greens' all year…I'm starting to get mustard and radishes from raised bed though.
ACE Hardware has these Styrofoam covers, 18 inch high ones for $6.99. There are many sizes advertised online.

Be nice if not for 30 mph breeze!
At 5 mph they'd be in another person's yard unless you put a rock on top.
Absolutely those Styrofoam covers need a rock on top on stakes into the ground. I had a large one over a small fig tree all winter with a big rock on top.
Lots of great discussion on this topic, I better decide what to do tomorrow afternoon
I decided to cover 7 out of 10.
Find out in a day or 2.
Revised forecast dropped to 32 for me tonight.
I covered mine with plastic buckets the last two nights and tonight, everything is ok so far. After tonight we may be in the clear
As usual it did not get as cold here as they were predicting.
We had 37 last night and 45 the night before.
I brought inside 8 tomatoes, 1fig, 2 ferns.
They spent the night in 72 degrees…
It was nice and sunny yesterday and is again today. When it gets around 50 I will put all that back outside.
In my hot spot those black pots will really soak up the sun and warm that compost mix up. Warm soil and tomatoes will suprise you with growth.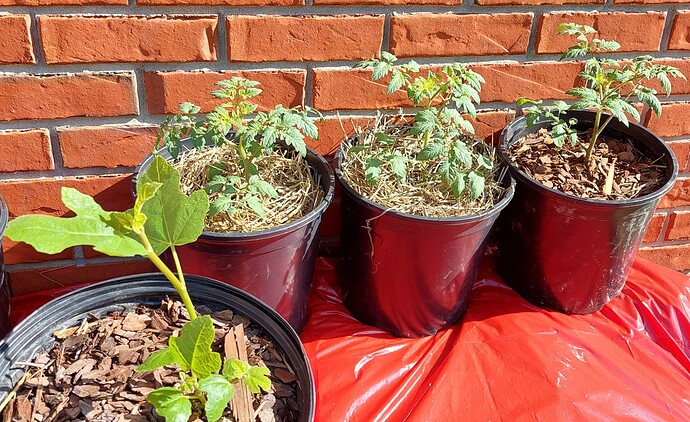 My hot spot. Heat radiating and reflecting from brick wall… and from red plastic mulch below.
South facing wall… all day sun.
I went with five gallon buckets inverted over the tomatoes. All survived, I did take som extra measures on some of the big plants, I covered them with a paper bag to hold them away from the sides of the bucket , then put the bucket over.