Thought I'd do another annual peach evaluation on the peach varieties we are currently growing.
I hadn't posted a peach evaluation since 2019. We had a very small crop in 2020 due to intense spring frosts. We had a very very small peach crop in 2021 due to a winter low of -19F the previous winter.
This year we had full crops. We had a very long wet cold spring, but unseasonably warm temps (90F+) which started the beginning of June and never cooled down through July. We also had less than 2" of total rain for June and just about all of July.
Peach trees were very stressed during this time, which resulted in very small fruit for about the first three weeks of the peach harvest. This fruit was unacceptably small and we sold most of it as seconds, for a substantially reduced price. We then got 7" of rain in one week which cracked the fruit close to harvest, but did get things back on track for the rest of the season. We finished the peach season, selling the last peaches on 9-21.
Surprisingly, peaches advanced very slowly during the hot drought part of the summer. Then when the seven inches of rain occurred in one week, it caused everything to catch up, which caused 3 weeks of peaches to ripen in about 2 weeks. This resulted in losing some peaches because we couldn't get them picked. I had two pickers picking peaches and still couldn't get them all picked. We lost about 700 lbs. on the ground during this time (in addition to what one would expect to normally be on the ground) simply because we couldn't get the peaches picked fast enough. The pickers were exhausted (as was I) and I didn't want to push them harder.
Despite all the problems, we ended up with a decent season.
We have one more variety left (one test variety not yet ripe). It's a variety which doesn't work here. It's Autumnprince with gets terrible bac. spot and is slated for removal.
We have removed and are no longer growing a lot of different varieties for various reasons. As always, the current report includes only varieties we are currently growing. I'm sure there are typos in my post, but it's long and I'm not going to go back and correct them.
This thread isn't intended to only be my evaluations. Feel free to add your own evaluations to this thread, if you desire.
From earliest to latest, here is my evaluation of what we are currently growing:
Earlystar (-21) This variety has moved to second place in my evaluation for this ripening window. I like the color of the peach and the flavor is a tad better than Harrow Diamond. But the trees take a long time to come into production, and the straight up growth pattern I'm really not liking more and more. Plus it gets more split pits than Harrow Diamond. The flavor is only marginally better than Harrow Diamond, so my first choice for this window has now become Harrow Diamond.
Harrow Diamond (-21) Not a lot more needs to be said here. It has a tree form as good as Redhaven, very reliable producer in our marginal peach climate. Color isn't great, but flavor is good.
Spring Snow (-21) Most people who have regularly read the fruit forum know there is some controversy over this peach. My original tree of Spring Snow was a mislabel from Adams County. After considerable investigating, I was fairly convinced my mystery tree was Spring Snow. Everything matches Spring Snow. Flower type, ripening window, gland type, fruit description and fruit photographs. The only thing which doesn't match is productivity, which is very low for this cultivar in my climate, but is ranked as good in other descriptions of it. Plus several members have rated this variety as mediocre flavor in their climate, which doesn't match my experience at all. This is consistently the best tasting white peach I've ever grown, regardless of the weather. I've grown over 15 different white varieties. This year it ripened during the drought part of the season and it was absolutely "knock your socks off" fabulous. I gave one to a close friend. He and his fiance said it was the best peach they had ever tasted (my friend has eaten lots of peaches from my orchard). One of my employees took some of these peaches to his family. His mother remarked, she couldn't believe something that sweet could grow on a tree. That family has also eaten lots of peaches from our orchard. Comments from customers were extremely positive with the exception of one customer who said they didn't want anymore white peaches (I think this was a reflection on white peaches in general, not this cultivar). Other customers came back the next week and asked for more of the white peach (Spring Snow). Of course they were gone by then. We only have 4 trees of this variety.
I am trying to solve this riddle why other members have purchased Spring Snow, only to be disappointed in the flavor. This spring I received some graft wood from a member who had purchased Spring Snow, and was disappointed in the flavor. I also sent him some of my wood from my "Spring Snow" so he could graft and compare. I ended up topworking a yellow peach with his Spring Snow wood (I chose a yellow peach because I didn't want any possibility of confusion when harvesting the two different Spring Snow peaches. I had 5 grafts take on the yellow peach tree. So perhaps we can figure out if the mystery peach I have is really Spring Snow. It will offer a side by side comparison.
Lastly, after all the accolades I have given to Spring Snow, I don't plan on growing it all that much longer. It is just too unproductive in my climate. I've grown this variety for many years. This is the first year the variety has produced a full crop. In the past, it produces about 100 peaches on full sized tree in an ideal peach year. If there is the slightest bit of frost, it won't produce anything. I did have about 15 of these trees, but pulled all but 4 of them out this spring. Sad but true, production is the name of the game in a commercial peach orchard. A tree which produces less than half the revenue for the space it takes up, simply isn't worth it. It uses the same land, takes the same labor to prune, uses the same amount of chemicals, same fertilizer. It just doesn't work to keep unproductive varieties when economic survival depends on productive trees.
PF7A (-15) It's OK. Colors well. Flavor is just OK. Size is small. I have one tree of this variety. When it finally dies, it will be gone from my orchard.
Early Redhaven (-15) A tad better than Garnet Beauty, but nothing great. Like Garnet Beauty and PF7A, it's a consistent producer most years. In all these peach varieties about which harvest about two weeks ahead of Redhaven, they produced pretty much full crops in 2020, when large portions of the orchard didn't produce anything. The exception was Glenglo which produced nothing in 2020 because of the spring frosts.
Garnet Beauty (-15) See Early Redhaven
Surecrop (-15) It produces a tad heavier then Early Redhaven and Garnet Beauty, but fruit size is small. It's easy to overcrop. When that happens fruit size is tiny. It tastes about like the others already mentioned in this window.
Risingstar (-14) Now this is a peach! This is the cultivar I would rank number one overall. Yes there are a few peaches which taste better. But this peach tastes very very good. It's extremely productive and even produced in 2021 when the previous winter hit -19F. It produces in all but the worst frosty springs. The tree form is excellent. I've harvested this variety for well over a decade. As my peach tastes have refined, so has my appreciation for this peach. Imo, it is the number one peach for this window. In fact, I won't plant any other peach for this window in the future, other than perhaps a few Glenglo. Beware, Risingstar is so productive, it is very easy to overcrop, which, like any variety, won't give you the best peaches this variety is capable of.
Glenglo (-13) It's a temperamental producer. But it produces very large nice tasting peaches. Because it's an offspring of Loring, it has a lot of the Loring attributes. Big fruit. Tastes good. But don't expect much production in bad peach weather year.
PF Eightball (-8) This is the first year these trees have produced. Not because they are young, but because the last couple years they didn't produce anything in the challenging peach weather. They produced quite a lot of fruit this year. Decent size for an early peach. Good flavor. Good tree form. I don't have a lot of experience with this one, but I was disappointed when they didn't produce in 2020, when some other cultivars did.
Wisconsin Balmer??? (-8) There is quite a story behind this tree. Always looking for productive varieties in my climate. This story begins when all of us were on the old fruit forum, before Scott started this forum. A grower there, who went by the name Mile High Girl, wanted to try this variety for her climate. She was not confident in her grafting abilities to feel like she could graft this peach. She found a lady in central MA (by the name of Abbie) who had this peach and claimed it fruited every year, despite very cold winter temps. Abbie claimed this peach fruited in her yard regularly, despite winter temps of -20F.
I got excited about this tree and paid for Abbie to send me wood. I grafted the wood to a rootstock and was on my way. Several years later, the grafted tree fruited, only to find that it was a poor small bitter nectarine (a rootstock, in fact). I contacted Abbie and told her the situation. She said she wondered about that, and that the tree was getting sick and old, so, not knowing any better, she had cut off some new growth at the base of the tree and sent me that to graft, because it looked healthier. She had inadvertently sent me a portion of the rootstock. She said she would resend me wood from the old sick part of the tree the following spring. She said the tree was about dead. I received the wood the following spring, and started the process all over. Fast forward several more years and the first year it should have produced was 2020. Indeed it bloomed, but all the flowers were frosted off, even though some other varieties fruited.
In 2021, when the previous winter temps were -19F, I expected Wisconsin Balmer to produce something, but it produced nothing, even though some other varieties like Redhaven and Clayton produced something.
Finally in 2022, this variety produced a full crop. The ironic thing about this is that I'm not sure the variety I have is Wisconsin Balmer. The variety is not winter hardy nor frost hardy. The fruit on this tree is of good size, and hangs on the tree like a modern commercial variety. In fact it hangs so well, I almost let this fruit get too soft and over-ripe to sell. I have this variety in my back yard and kept looking for drops as I'd pass by (which is a tale telltale sign to examine the variety for picking) but never saw a single drop. Finally the tree smelled so strong of fresh peach scent, I checked the fruit and some had already gotten over-ripe and over soft. Exceptional hang time is generally an attribute of a modern peach variety. It also has a nice tree form. Flavor was very good.
I took a picture of some of these peaches at the time, just so I could post it on the forum.
Here is Wisconsin Balmer (maybe?)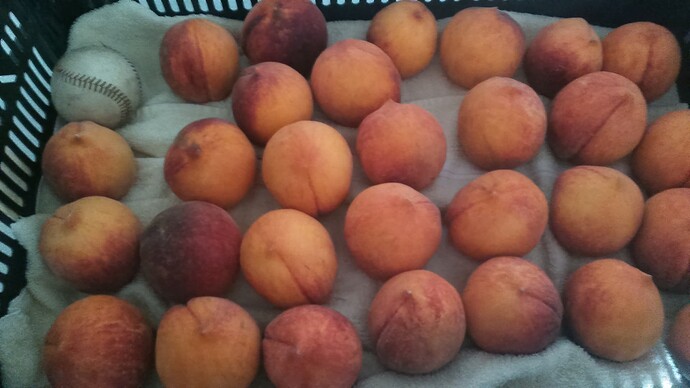 Many people claim McKay and Wisconsin Balmer are the same peach, but other's claim they are different.
Here is an old Nafex description from Plum Hill Farms (who has posted on this forum from time to time). @PlumHill
"Hello, We have both Mckay and Balmer peachs in our orchard (Charlotte
Vermont zone 4B). THe Balmer has fruited fairly consistantly for the last
4-5 years. This year the bloom is very small even though the winter was not
as cold as last year (-23F vs -27F). I do not know why this is, as all the
peachs had significant die back this year but the plums are doing very well,
and the Kristin Cherry has the first good crop set in the last 5 years. The
balmer is very tastey, the Mckay is good but not as good as the balmer, but
better than reliance.
Our hardiest peachs are Reliance seedlings (granted they have been selected
for hardiness, the weak ones were cut down) but do not have the flavor of
the balmer or mckay. The Intrepid peach (starks) is also very good and hardy
but diid not bloom well this year. Lasr year the plums got frosted by a late
frost, and the peaches did well, this year the plums are doing very well and
the peaches are not."
Either way, this peach has not impressed me as a consistent producer.
Saturn donut (-5) High sugar white peach. Favorite with many customers because it's pure sugar. It's more like eating a sugar cube (which I used to do as a kid) than eating a real peach. Still, customers love this peach. It has serious issues with stem tears when picking. And it browns almost instantly where the stem tears the skin.
Clayton (-5) These trees produced something in both 2020 and 2021, which is saying a lot. Fruit size is small. Flavor is very good. Trees want to drop fruit, so you have to stay on this variety and keep it picked. Color is poor.
PF9A-007 (-5) Big fruits. Very productive and can handle a lot of fruit on the tree and still size it. It isn't as reliable as Clayton in extreme years, but still overall productive. It doesn't taste quite as good as Clayton, but size is much larger and it doesn't drop fruit as bad. Right now I like PF9A-007 slightly better overall, but it's a tight race between this one and Clayton for this window.
Harken (-4) Nothing to write home about for sure. Fruit size is small and uneven. Flavor isn't as good as the previous mentioned cultivars for this window. Productivity isn't great, except in the very best years. There are much better choices than Harken.
Redhaven (0) Nice peach, nice production, nice flavor, nice color. About the only issue this variety has is that it is somewhat more prone to bac. spot. It deserves a spot in just about any orchard, imo.
TangOs I (+1) This flat peach has a strong tendency to rot and have lots of inking on the skin. It does have a bit of a cult following, though not as popular as Saturn. It's fairly productive in challenging years. Flavor and texture are unique. We lose at least 25% of these on average to rot and inking. This year it was more like 50% which had rot/inking. This with a commercial spray program. To get rot completely under control, it would take parking a sprinkler beside every tree, and running Indar through the sprinkler 24/7. The fruit also love to split.
Starfire (+1) Essentially the same as Redhaven. Better color, but production not quite as good, but almost as good. Doesn't have as much bac. spot as Redhaven.
Blazingstar (+4) Really great tasting peach. Intense flavor. But small size and low productivity in challenging years make this peach one that I want less of.
PF15A (+4) Really good peach. Very red and tends to sunburn some. It's very productive most years and must be thinned heavily to avoid overcropping.
PF 14 (+4) Complete dud in production. Fruit flavor is good, but even this year, my one test tree of this variety didnt' produce anywhere near a full crop. Going to pull this one out.
Johnboy (+5) Really great peach and great size. It's not the most reliable, but a very nice peach overall.
TangOs II (+6) Unique white peach. Similar texture to TangOs I. Doesn't ink or rot as badly. Does have the same splitting issue.
Challenger (+7) I still don't really feel like I've grown this peach enough to give a fair evaluation. Fruit quality is fine. Nice red color. Nice flavor. I'm still not sure about the production potential of this peach in marginal years. So far, it's probably the most consistent producer for this window, I think. These trees are just now getting mature. So far they seem promising, but not sure.
Ernies Choice (+11) This variety has proven more and more consistent. One of the more consistent producers for this window. The flavor is also very intense. I don't like the uneven size. And if it's cloudy and rainy weeks immediately preceding harvest, a lot of these fruits will be very tart.
Blaze Prince (+11) Production absolutely sucks. Even in the best years it produces almost nothing. At that point no other attributes matter.
Allstar (+12) Very productive peach but was blank the last two years. This one must be thinned very heavily most years or it will overcrop and give bland tasting fruit. And can get mealy.
Glohaven (+13) Not what I would call a productive peach, but always seems to produce something. Fruits are almost always huge.
PF17 (+13) It's OK. Not a bad peach. But nothing remarkable either.
Tubby Dubby (+14) A mislabel we named Tubby Dubby. Great tasting peach with intense flavor. Big size, double red color. Production is poor in challenging years.
Harrow Beauty (+14) I'm tired of this variety. It doesn't produce in poor years and way oversets in good years. Fruit size is even. Flavor is not remarkable.
Winblo (+14) I'm liking this variety more and more. Enough that I added another row of 25 trees of Winblo. It tends to be not a heavy setter, but seems to set consistently, even in challenging years. Fruit size is large. Fruit quality is excellent. Fruits are consistently sized.
Rochester (+14) I really don't have near enough experience to evaluate this one. A forum member sent me wood for this variety, which I grafted to the tops of an existing tree. This year some of the grafts fruited. It does bloom very very late, which is exciting. But the fruit quality is suspect. This is only based on two fruits though, so not much to evaluate. But the fruits had very stringy flesh. Worse than any peach I recall growing. Flavor was good, just the texture was very poor. Again, not much of an evaluation, based only on two fruit.
Intrepid (+15) Trees are just now mature. Not as productive as I'd initially hoped, but it's still a bit early to make a fair evaluation. Flavor is good.
PF19-007 (+19) Have several of these and hoped they would be super productive in frosty years as Paul Friday had advertised. Very disappointed so far. They produced nothing in 2020 and 2021, in spite of the fact they were almost mature trees. This year when most everything produced full crops, these had marginal production. Don't waste your time with these varieties. If you grow peaches in a challenging climate, plant something like Baby Crawford or Contender for this window. Fruit quality was good, just a very poor producer. Loring even outproduced PF19-007.
Loring (+19) Loring is a nice large excellent quality fruit. It doesn't produce well in challenging years.
Mr. Ed (+19) A mislabel we named Mr. Ed. I've no idea what cultivar this really is. It's a fairly consistent producer, though not as consistent as Contender or Baby Crawford. It's better quality than both though, in taste color and size.
Contender (+21) The most consistent producer of peach I grow. Full crops in both 2020 and 2021. Fruit has a lot of fuzz. Quality can be substandard if overcropped, which is easy to do.
Veteran (+22) An old timey peach which doesn't color well, but reliable producer. Smaller size. Flavor is good.
PF 23 (+23) It's a decent peach, with decent productivity. Nothing remarkable.
Scarlet Prince (+23) It's turned out to be not all that productive. Size is small. When this one test tree croaks, it will be replaced with something else.
Baby Crawford (+23) Almost as productive as Contender, but not quite. Fruit size is small unless thinned well. Flavor is considerably better than Contender.
Sweet Breeze (+23) Nice high quality peaches. Not nearly as productive in marginal years as Baby Crawford and Contender, but the flavor is excellent.
PF24c (+24) Very productive, even in marginal years. Good quality peach too. Highly recommend for folks in challenging areas.
Sentinal (+24) Poor color. Not a great quality peach, but this is the first year these trees have fruited, so can't evaluate fairly.
JulyPrince (+25) Generally very productive very red peach. It has some inconsistent production in challenging weather. It can easily be overcropped. But when then correctly, produces a very high quality peach.
Biscoe (+25) It's a nice old timey peach. First year it cropped for me. I need more experience with this one to properly evaluate. It wasn't as productive as some other peaches for this window, so far. But it's supposed to be a consistent producer in challenging weather. I haven't seen that yet, but perhaps this one test tree was a bit too young to withstand the bad weather in 2020 and 2021. It's certainly mature now.
Glowingstar (+27) It's OK. Production is OK. Fruit quality is good. It's just that there are a lot of good peaches for this window.
Cresthaven (+27) I eventually have these trees slated for removal. Production is decent, except it can be wanting in marginal weather years. Size is good. It gets bac. spot pretty bad.
Madison (+27) Good old time peach. Colors poorly. Good production in marginal years.
PF25 (+28) Decent peach. Production is decent. I'd rather have JulyPrince for quality, or Madison for more consistent production.
Redskin (+28) Seems to always produce something in all but the very worst years. Color is very poor. Flavor is decent. Like many of these later season peaches, it drops badly.
Carolina Gold (+29) Excellent quality. Good producer, even in bad peach weather springs. I have planted quite a lot of these recently.
PF27A (+30) Bad production in bad weather years. Fruit quality is good. There are better choices for this harvest window.
Oldmixon Free (+30) I only tried two fruit from this variety this year, from one graft as a trial. The fruit are intense but tart. It's not a reliable evaluation because of the very small sample.
Encore (+33) Very reliable producer, even in challenging years. But fruit quality is poor. Big fruits, but not very sweet.
PF35-007 (+35) Very reliable, even in poor weather years. Nice big fruit which tastes good for an end of season peach. Highly recommend.
Laurol (+38) Always very productive, except in the worst peach weather years. Big fruits. They also drop badly, like many of the end of season peaches. The trees are pretty susc. to bac. spot. This year we had some real issues of the cores rotting inside this variety. I think it was due to the unusual heat this year during this harvest window.
Autumnstar (+43) Not productive in marginal weather years. Otherwise big nice tasting peaches. Like Laurol, we had some issues with the flesh around the pit rotting.
Victoria (+45) Like Autumnstar, not productive in marginal weather years. Very good quality peach though. This year this variety had tons of split pits (probably 50%). I frequently tell a joke with customers about this variety.
Many will ask, "What variety is this?"
My answer, "Victoria, ever heard of it?"
"No" they say.
My reply, "It's a secret."
Most of the time it will get a laugh, or at least a smile.