That thought crossed my mind as well.
Thank you all of you for information .
I do not have pawpaw. I am not sure they sell it here, I only know about it from this forum. I will probably dried or make jam from all the leftover fruits.
This is Emerald Drop. It is still not quite ripe but the fruit and leaves look like yours. I bought the tree two years ago and it has a few fruits now.
Yes they're similar. So if you have Emerald drop pluots that mean your tree is not Emerald drop because both performing aren't the same. I will updating more pictures in a few weeks after they turn all golden yellow.
Pawpaws are the good fruits to try. Nursery sell very small size tree . They take long time to grow and have fruits. You should buy them as soon as you can. Theirs fruits are not sell in the market. You only tasting the fruits from your own trees .
I just bought a couple more trees good looking size today.

Today I just picked one from the tree. Let you and @fruitnut see color inside and recognize again the name of the tree. It's really juicy, brix: 18, clingstone.

If not too ripe the inside color look below
Except for the two unusually big and watery ones we picked about ten days ago, the rest are not quite ripe yet. Usually my husband will be the guinea pig and let me know if it would be sweet enough for me. He said it is still crunchy and a little tart but getting more sugary now. I normally don't cut it for him because the knife make it taste a little metallic. Yours look too juicy to be Emerald Beaut. Another week and I should have Emerald Beaut and Emerald Drop ripen for comparison.
I have some Emerald Beaut and one Emerald Drop today. They taste almost the same, very good, crunchy and sweet when not too ripe. Emerald Beaut has a little more sugar. Doesn't matter what they are called, I am happy with both.
Picture 1: Emerald Beaut
Picture 2: Emerald Drop and the small Emerald Beaut look like twins
Picture 3: The inside look the same, not freestone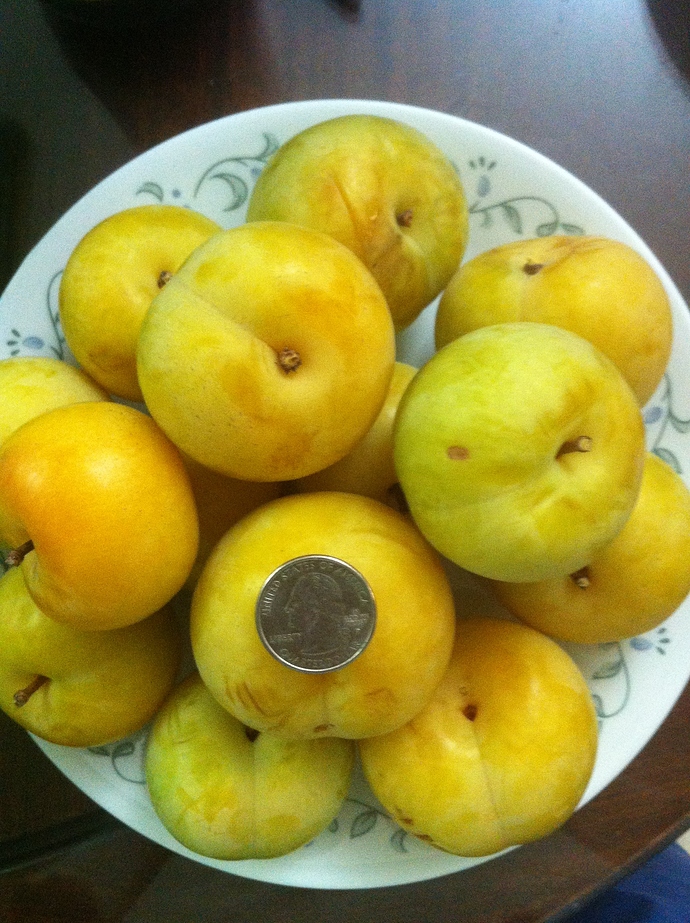 Looking very good. Thank you so much for reporting. Your fruits look firmer. Mine are very sweet and juicy.
Mine will not fruit until next year (2 years old only) but I think Emerald Beaut should be more oval and freestone. It also ripens quite late.
Vincent, I don't think it's possible it can ripen at the same time as Nadia that you are currently harvesting. My Nadias ripened about 3+ weeks ago (zone 7A) so if my Emerald Beaut was to ripen at the same time it would ripen one month earlier than Modesto, CA (DWN's data) which is impossible. My guess is that you have Emerald Drop…unfortunately
How is the health of the tree compared to other stonefruit? Do you spray?
If you live where it rarely rains during the growing season, pluots are fine, but in the humid regions certainly some can be a challenge as their tendency to ripen hard can lead to a lot of cracking. I don't have enough experience with them yet to offer reports of significance, but I've been cropping Flavor Grenade for 5 years but only ended up with a good crop once. It was dry for a month leading up to harvest.
However, I live in a sheltered spot that holds a heavy dew for too long. This also leads to bacterial spot problems with many West Coast bred varieties of pluots and even J. and E plums.
I haven't planted that many yet in other orchards and won't be able to provide definitive info for a long time, but keep in mind, commercial West Coast growers complain about the tendency of pluots not to crop well and are often not very profitable for this reason. Never underestimate the value of a variety to consistently crop well. Home growers need all the help we can get.
My Emerald Beaut plum bought from Raintree. Growing super fast. No chemical or fertilizer at all . At least double speed compare with others stone fruit. But no fruiting early even a lot of flowers every Spring.

Looks delicious. I'd love to get some dormant scions from you this winter if you're willing to trade or send for postage. Looks like it went off patent last year.
@murky. My tree really big I will send it to you in November. It's very good, juicy and extremely sweet , ten times better than Shiro plum.
My friend's peach tree in Seattle this year looks so good, I think maybe the Frost peach. I just come back from flower world nursery but the frost peach out for now,
so I get Hardy Red Nectarine.
What happened to Flavor Treat? I see it mentioned in a lot of older threads, but I'm never able to find it online or at stores to buy. I can't even find it on Dave Wilson's site. I'd like to add a late pluot but is my only choice Flavor Finale at this point?
Flavor Grenade is fairly late and a few people have Fall Fiesta.
Flavor Treat has been a big disappointment for me.
Just an average fruit, nothing special at all. My first
tree died in its second year for no reason at all, and
I'm top grafting my other tree. Don't bother. That's
probably why you can't find it.
I've grown Flavor Treat in my greenhouse for 15 yrs. I like it better than Flavor Finale. It's later in maturity, bigger, absolutely beautiful, and more consistent in quality. But it's probably too late for most situations outdoors. My greenhouse has a 320 day growing season. Is it the best pluot, no, but it's very good and in Sept and Oct it's very much appreciated. It is the last stone fruit each yr that I look forward to. I have ripe stone fruit April into October, about 6 months worth. The first and last to ripen of any stone fruit is seldom the best but can still be worth growing if you have the right conditions.
I have flavor grenade, which I love. I'm just looking for something later if possible. My trees lose their leaves after Thanksgiving in southern california, so I have a long growing season. The only late season pluot I see is flavor finale on Dave Wilson's site.
Fall Fiesta is a commercial fruit so unless you can buy one hundred at a time you won't get a tree. At one time you could special order the commercial trees. That program has been stopped
So some here have a few commercial trees it's too bad as DWN has dozens of commercial only pluots. Another late one is Flavor Treat. This is one I would love to try. I like the late fruits. Flavor Finale I let ripen till the first freeze here in late October. Man was the fruit fantastic. Fall Fiesta the same thing but I need more fruit before I comment on them. I will know more by the end of this season as mine is loaded with fruit buds. Nothing has bloomed here in Michigan yet. Last year it was pretty darn good. The tree is very vigorous and produces a lot. Some question if pluots are truly inter specific. I would say after growing both for over six years pluots are clearly different. Fruit buds for one form early and look a lot different than plums early on. Later they look a lot alike as the plums catch up in bud formation. The difference is quite obvious. I don't see fruit buds in February on plums but all the pluots have them. I often think they will be damaged from the severe cold. But that has never happened. On some they even begin forming in late fall. But by the time pluots bloom so do the plums. Very strange and very different from plums.