Oh no mine has nothing yet.
Hi Steve. Your Meiwa is looking good!
thanks;
I have found that the kumquats produces very little fruit. I will see if anything comes from these flowers.
I had them lots a few years ago, medium last year, I have yet to see anything this year yet.
I have a Meiwa that is like that. Im nkt sure why. The fruit is great. I grafted a Fukushu a couple of years ago and it seems to flower and fruit almost non-stop. Calamondin does well for me too. I do wish the Meiwa would flower an fruit more. It's actually a graft I did of a tree that wound up dying. It fruited a fair bit, and the taste is amazing obviously, so I wanted 2 trees. I was glad Id done that because within a few months the first tree had died (suddenly). Id assumed it was an acute case of the same twig dieback I see most years on my potted citrus. I think this second newer tree is on Meyer Lemon seedling rootstock, so maybe that has something to do with it. Ive noticed the leaves are very small (even for Meiwa) and the branches are sort of "twiggy" and low vigor. Maybe it just needs a good pruning?
Meiwa is the variety that I hear my friend with the citrus nursery mention most often about low vigor and slow growth. Of over 200 varieties Meiwa seems to be his slowest grower. Low fruiting rate must go right along with the low vigor.
Meiwa kumquats have a very small choice of compatible root stocks available.
FSHS1998KumquatCalamondinCompatibilityFERGUSON (2).pdf (552.3 KB)
My Meiwa came grafted to Kuharske citrange. Within 4 years the graft joint had pulled away so I did an approach graft to flying dragon.

very interesting, thanks. ill check out the link. If this is a graft compatibility issue, its the strangest one Ive seen. The tree grew quickly to ~ 3 ft tall and bushed out nicely. Its only now that it seems stuck at that stage. Flying dragon sounds like a smart idea. Where do you get yours. Id love to try some. I know a guy who grows it unprotected pretty nearby. Its zone6 there, but very similar otherwise.
Someone gave me seeds and I planted them. Get fruit from your guy and plant the seeds immediately to grow through the winter under a light.

One Green World is where I got mine.
I also got a nagami and a meiwa a few months ago from OGW, I think one of them is showing a little fruitlet. Both of looked grafted and weren't on their own root.

I checked this morning and my Meiwa has putting out lots of tiny blooms, yay!
My second Meiwa on FD has bud expansion.

second Meiwa on FD has bud expansion.
The growth of the first over 5 days.
I'm aware this is an old topic but my Meiwa is cycling it's second bloom cycle this year, while I agree it seems to grow slowly it has been a good producer for such a tiny tree; this is it's third year in ground but I moved it after year one (poor planning and small yard this happens) but the first year it gave me 4 fruits, last year about 20, this year could be 50-100 who knows how many of these late September blooms will mature but the bees are doing their job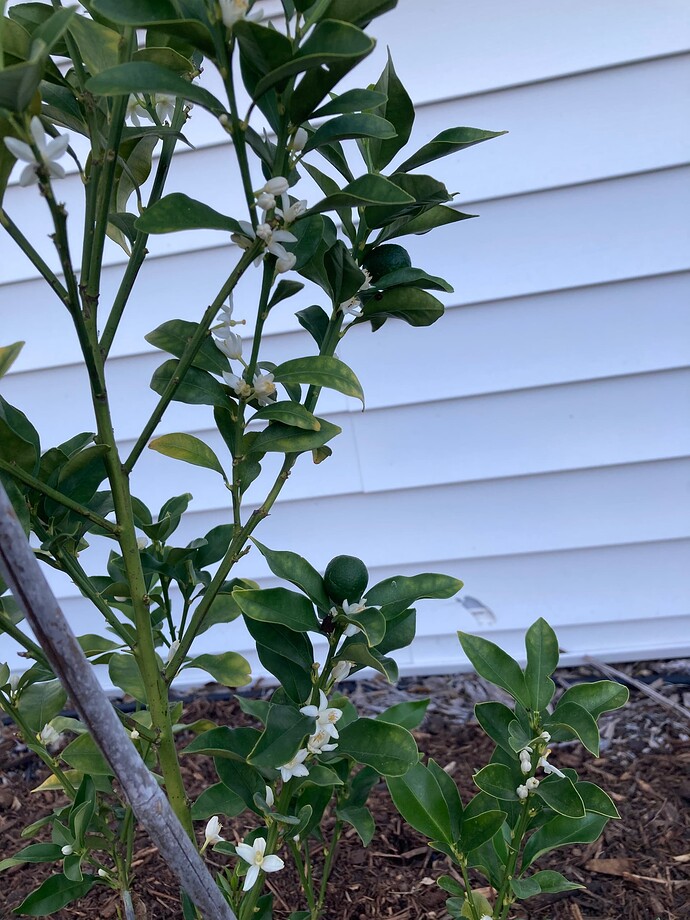 I was just curious if anyone else's kumquat decided to push a second crop. My marumi also did (far less blooms)but the Nagami and Fukushu didn't
my meiwa bloomed profusely but didn't seem to set many fruits. fukushu has been more prolific for me so far
My Fukushu was very small when I planted it but on year two in ground it didn't bloom, it did last year but I didn't allow it to fruit as I'm sure it would have broken it's little branches haha.
For me, summer fruits are sort of the 2nd crop. The main crop usually comes in early winter. Some of my potted citrus will bloom and set a smaller number of fruit around April, when I set them out.