Picked Today. Winter Delight, Lang, SugarCane, Tigers Tooth.
Tigertooth will get a little larger & ripen more
Bob,
If Winter Delight can be picked this early in your zone. I think it has a chance to ripen in time in my zone 6. What do you think?
Yes I've been picking Winter Delight, Autumn Beauty from 1 location, Lang, SugarCane, some Tigertooths. Winter Delight is about done.
I expect in the next couple days/weeks to pick Li's, Shanxi Li's, Honeyjar, Shihongs, Contorted So's. Also Autumn Beauty's from a second location, but these are second year trees so maybe timing will change as the tree matures.
Sometime later I should get some Chico's , & a few Sherwoods.
Branches are breaking from all the fruit, it's a great year for Jujubee's here.
Very nice! My Jujube's here outside Philly are are not even pea size yet. I saw some fresh ones sold at a local asian market and had to have a taste so I bought a pound. Dry and no comparison to a fresh picked one.
Really nice. I'm going to have to get a Winter Delight. I've got some Honey Jar and Chico about to ripen and I've got a bunch of fruitlets on my Contorted So that are pea sized. I don't have Sugar Cane either.
worth trying, nothing to lose. Best to graft high or away from traffic, as WD can grow 2" long spines. The longest have observed among the 50+ domesticated cultivars we've grown-- longer than the spines of wild-type rootstock! Good thing about WD thorns is that they are borne at an acute angle from the stems, instead of the perpendicular ones on the wild-types. Seems to be more precocious on li interstems, with some grafts proving that may bear fruit on same year of grafting. Observed it just this year.
@jujubemulberry, got a silly question or two.
Is Ziziphus jujuba thornless most of the time whereas Z.j. var. spinosa is thorny? As of now I don't have spines on my 'Honey Jar' but will that change?
Of the popular cultivars (I see 'Winter Delight' has thorns…) how many are thornless and which are? Does the variety spinosa originate from the same geographical area as those w/o thorns? Or maybe they all have thorns?
Dax
Thank you for the warning about the thorns. Have enough of them from the roses.
relative to the spinosa clan, most jujuba's(also known as domesticated varieties) are not as spiny. Winter D may have long thorns on the laterals, but the fruiting shoots don't have as much, and may be thornless altogether.
btw, wasn't sure if i gave you hj seeds. Domesticated varieties will have very thorny seedlings(from our experience with 200+ seedlings we've grown), difficult to tell apart from wild-type spinosa seedlings, but we're not ruling out the possibility that there might be thornless ones.
of the domesticated varieties, mature hj budwood will generally not be as thorny as others.
Many of the pear-shaped jujus are relatively free of spines, namely lang, don polenski, and of course the variety 'thornless'.Silverhill, sherwood, and ant admire are the others that are also relatively thornless.
lastly, many spiny jujus will lose or just have relatively tiny thorns when grafted high. Seems like a defense against terrestrial herbivores. As if 'knowing' that it becomes unnecessary if stems and leaves are borne 8-10 feet above ground.
Thanks Raf.
Not sure what you sent seeds from but they are thorny. I bought more seed from F.W. Schumacker and man are they thorny. I'm considering snipping off thorns in hopes they don't return. At any rate, I'll use the seedlings for grafting.
Dax
good luck on your juju nursery business. The price of juju trees have skyrocketed over the past 4 years, so even if you might not like the fruit quality of, say, sugarcane or hj, or if so happens they are not productive in your region, you could just propagate them and sell.
some nursery owners/ or folks of scion exchange tell me they never had any fruit from some cultivars they are selling/exchanging, even though they've had their trees many years earlier than ours.
just because their trees are not fruiting does not stop them from cashing in on the demand, since trees are long-lived and could be mined for budwood.
or just exchange twiggies for cultivars they don't have.
Well I didn't get the posted germination rate, so not exactly a nursery. I have 15 seedlings or something like that. That won't stop me from growing more of them though.
Guess who I may ask for budwood from??? You got it, you!
Dax
actually feel good giving away juju seeds and budwood. More often than not-- happier than the folks receiving them!


anyone here in the circles of bezos, buffett, zuckerberg, or gates? Or trump? Or anyone in the circles of WHO/United Nations/Greenpeace, etc? Hoping one of them might have some spare change to finance the mass production of select juju cultivars, not just for this country, but for nations which will benefit from the abundant goodness provided by this relatively unknown fruit tree, with little water and often with little or zero chemical upkeep.
For me, Winter Delight is either the last or next to last jujube to ripen, which I believe is one of the reasons it was named Winter Delight. I'm in zone 9. The WD in the photo above does not look like my Winter Delight. Here's a photo of my mature WD -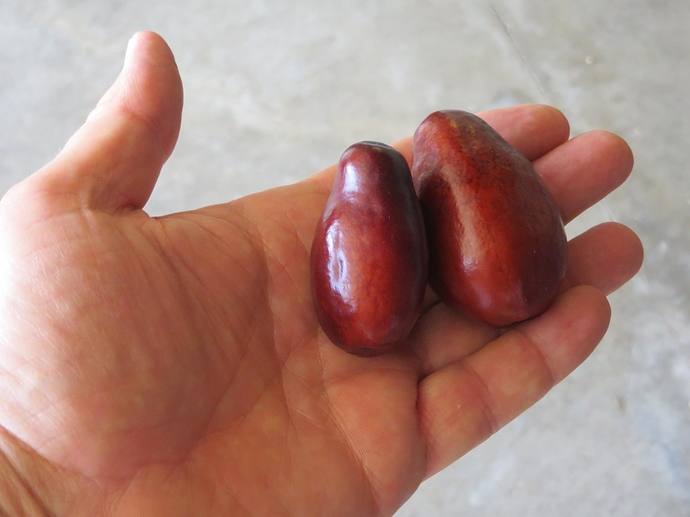 And here's a photo of a green WD -

No, doesn't look like mine. I got my tree from One GreennWorld about 10 years ago. Bottom picture, one on left looks similar, but one on right is nothing like mine. Where is your from? And how do you like yours?
Bob,
Your Winter Delight looked like the photo in Rolling River Nursery.
Here is another photo of Winter Delight that one person in California grew.
There may two different Winter Delight and that is good for Jujube grower like Us.
Tony
Castanea,
That's what I thought, too late for my zone. By the way, those two Winter Delights, the CA and Bob H's versions look very different. Interesting.
My Winter Delight came from One Green World many years ago. I have two of them and they have exactly the same elongated fruit and they both mature very late. The fruit in the left of my photo of three fruits is Autumn Beauty which matures very early. Autumn Beauty is superb. Winter Delight is OK.