Hey all,
Just curious who else is growing them…
I ordered a Winter Double Pink Flowering Ume Apricot (Prunus mume) from Edible Landscaping a couple years ago.
Hasn't flowered yet. They claim around Valentines Day it flowers (but maybe their weather is a bit different than my Philly area Weather and get warmer up there earlier).
Anyway I was curious …
###1. if you are growing them, what area/zone are you in and what time does it usually flower for you?
I realize it may be random. Like I have a Wintersweet plant and it sometimes blooms on a few warmer days in December or this year in Feb. Ill post in this thread when mine blooms (hopefully this is 1st year it blooms, its about 4-5 tall so keeping my fingers crossed).
###2. Maybe possibly in future we can do scion exchanges or this year (Im not sure myself if i have scionwood available for it but def next year Ill have a few. Let me know if interested).
I think red/pink/white flowers on one tree would be pretty awesome. I only saw a bonsai example on a ume: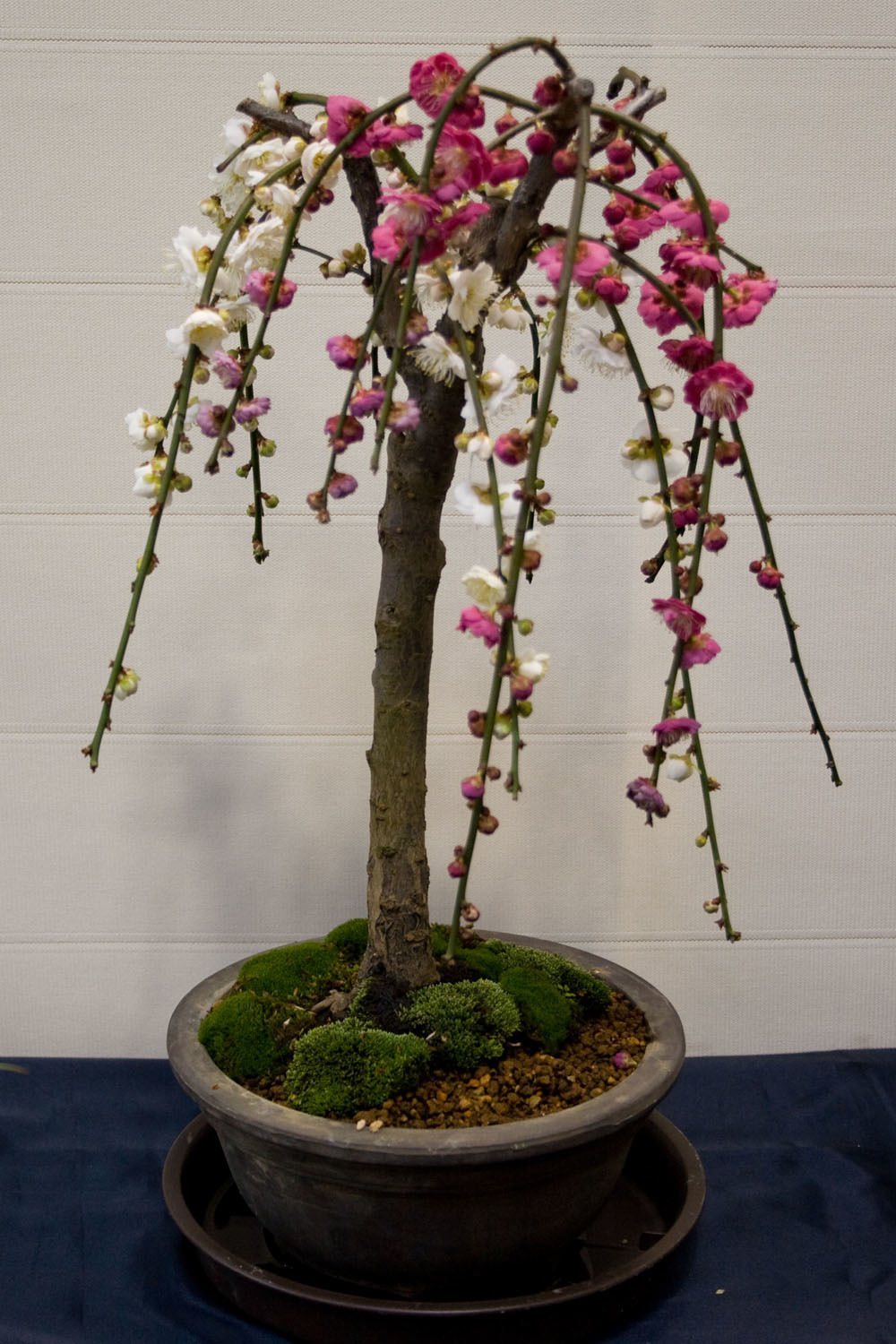 I was debating asking people here for Matsubara Red, since it has the darkest red, very pretty.
Note: I heard it may be a very weaker grower though (reference: Evergreen Gardenworks Descriptive Catalog: Prunus)
###3. Does anyone know if you can also graft Flowering/Ornamental Cherries and Peaches to Flowering Apricots?
For example stuff shown here:
https://baylaurelnursery.com/flowering-trees.html
On a sitenote if people are interested on what you can do with the fruit:
Personally I find the Ume fruit brandy one of my favorite liquors and I also enjoy the pickled plums themselves when i tried them in Japan (I like the slightly sweeter honey-ed versions or more mild non-honey-ed versions, I even crack the seed open with my teeth and suck out the juices (hopefully no cyanide in them lol). I do enjoy them alot.
Warning: You could also get a bad batch… My parents just brought back some of the pickled ones from their trip in Japan today … and the ones they got are extremely salty (to the point where it hurts my outside lips when just touching the fruit lol and now my stomach is hurting from too much salt from eating a couple of the large ones … I love Ume's but i think they sprang for some cheap discounted stuff the hotel couldn't sell hehe).
They bought larger plums though compared to the ones I see for sale here in the ethnic food store (usually this company if interested in trying one i know is slightly sweet: http://www.amazon.com/Hachimitsu-Umeboshi-Honey-Pickled-Plum/dp/B00GXU82MOi … usually cheaper though if you can find in a local store).
Wish they got the honey-ed version of the large ones). Here is a comparison of the large ones with some small ones they bought (the ones I see in stores are about 1.5x the size of the very small ones they bought):