I have pink champion currents. I noticed recently,it's newly grow leaves turned yellow。Is it diseases, or nutrition issue?

The leaves are showing nitrogen deficiency, which can be due to a number of causes.
I do not know the answer, l've never seen this before. But it does not look like nitrogen deficiency. There are completely yellow leaves in the middle and then the younger leaves are green again. Any poison of some sort nearby? It might be a virus too.
That's not N deficiency. I'm not sure what's going on but not a N issue.
Of course, that's not what I said.
Here is the reference to virus infection in currants
http://www.ars-grin.gov/cor/ribes/ribsymp/virus3.html
Well, it says virus on the top of the page, but later they say it is not a virus issue.

Can you give us a reference for the source of this plant? It'd be nice to know which currant species it is a selection of hybrids of.
Iron deficiency? But it has to be very severe to look like that…
It looks more like a virus than a nutrient deficiency. The symptoms are too irregular to be a nutrient issue IMO.
Interesting, the leaves otherwise look healthy, a spontaneous (sport) variegated mutation? Are the leaves dying? I like variegated plants, but they can be hard to grow. I don't have many of them.
Do you mean Pink Champagne? So same species as red and white currants. Very old too! Nourse is selling one that is not Pink Champagne! Although they are calling it that! It's some white currant.
The Champagne or Pink Champagne variety is a very old cultivar listed in the catalogue of William Prince's Long Island, New York nursery since the early eighteenth century. Pink Champagne currant is a vigorous upright bush with a beautiful pale red fruit of high quality and delectable flavor.
Another old pink from France is Glorie des Sablons. Both are awesome plants, i have both. I really like the flavor of the pinks. I like to blend fruit, and these really work well for that.
Sorry for the typo, it is Pink Champagne. I have it for 5 years, the yellow patch started last year, did not affect as many leaves as it does this year. Besides the funny color, it does not appear affect the plant's growth. This variety of currents grows very vigor, set heavy fruits. The fruit quality is great, I enjoy eat them fresh.
Sounds like a variegation occurred, that is extremely rare! That plant is very valuable, I would love a cutting (of the variegated part) in the winter! I have white Primus and it has long strigs of currants, very productive, not a bad one to add!

Of course, Drew. your name is on the cutting list.
Thanks Anne, I have no doubt it's a variegation, so nothing is wrong with your plant. Looking closely at the normal leaves, they show no sign of any deficiency, this convinces me it's a variegation. I grow a variegated elderberry. Two are known to exist, well that I know exist. The other is fantastic, but I have never been able to get it to grow. I may try a third time, it's so beautiful. The yellow variegation is easier to grow. I have it at my cottage, took a cutting and planted one here too. The variegation varies all the time. You have a very extreme variegation, yet appears healthy, very cool! I really do not think it's a problem, but I could be wrong. If the cutting you send stays variegated here in my soil, it's for sure a variegation. Take a cutting or two when dormant. I can send you other currants, or fig cuttings, or anything else, stone fruit scion etc.Thanks too, I really like variegated plants, and I only have that elderberry. They root as easily as currants do, elderberry that is.

Drew, indeed, this plant is very health. I have planted a black currents and red lake current near, and this one is the most vigorous one. I rooted some cuttings last year, but none of the cuttings turns out variegated though. Maybe need take from the top portion ?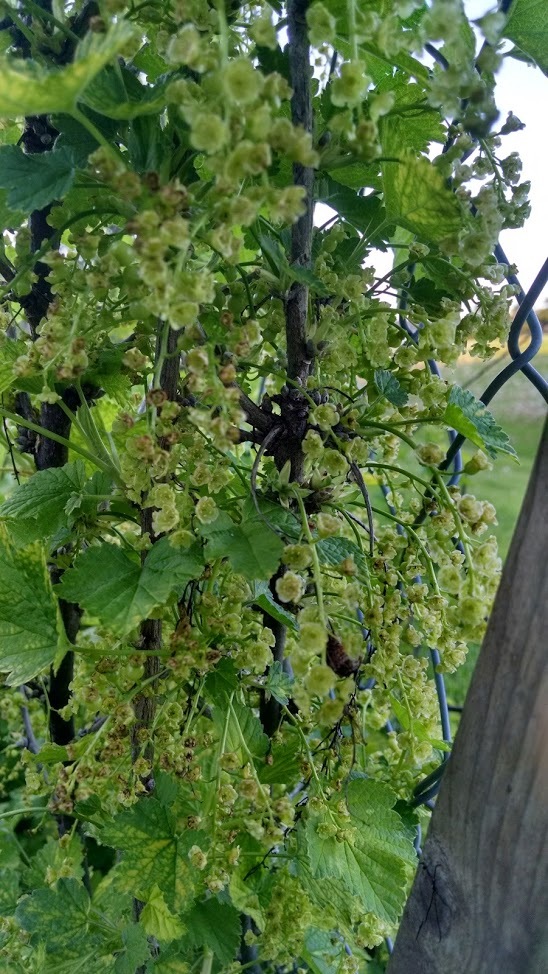 Yes, it can revert, it may not be stable. Mark with garden tape if you have to, the variegated part. I would still want a cutting as it can re-revert too!
Here is ribes_sanguineum_variegata, another example of a variegated currant.

I have 6 or 7 Pink Champagne…I ordered them from a company that has mislabeled other things I have bought from them so I am wondering about them…no fruit as yet and they are far from vigorous…perhaps they need to get established …this is just the 2nd year for many and 3rd year for a couple of them that had early setbacks. If they turn out to be not Pink Champagne…I'm not sure how I would know that…since I'm sure anyone growing red and white currants will end up with pink seedlings at some point on their property…and they could be either great or terrible…I have read that these have the best flavour of all currants…whatever that means…I interpret that as 'very sweet and agreeable'. …so I am going to conclude that if these produce fruit which are kind of meh…they are mislabeled.
Yeah pinks are the best for fresh eating. I don't like eating the whites fresh, but I make a syrup, and use it to flavor water. I love the taste like that. The reds make a great syrup too. Well I like black currants for the very best for syrups. Still I enjoy all of them. No way to tell if pink till it fruits. It is pink, not white or the deep red of red currants.
I have not had volunteer currants here, but I grow them at my cottage too and yes, many volunteers! We have many small birds migrate through at the cottage, and bet they are familiar with currants. The local birds in the city are clueless.