Nice Naeem, are those dried enough to be shelf stable, or do you freeze them or something?
I would not worry much about any thing but just to be safe you can put in a air tight jar and refrigerate.
I would love to see real Improved Celeste you and Ram have . I want to sort these out. Celeste, Improved Celeste and Golden Celeste. @ramv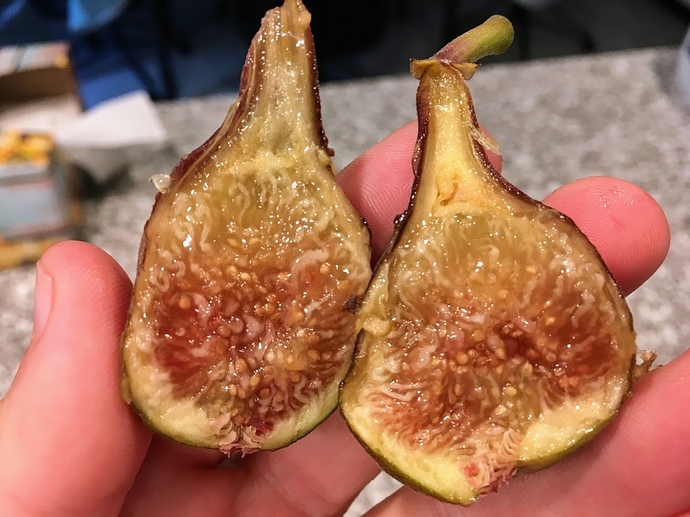 The interior will turn a light red as it starts to shrivel and dry.
The exterior is brown. Not blue like blue Celeste will get. Second photos are Blue Celeste.
Harvey had messaged me privately recently, "BTW, most (75%?) of my Unk. Pastiliere drop but still get a fair amount to eat. Sure looks and tastes a lot like Pastiliere. Weird."
I'm of the opinion that there are many strains of Pastiliere. I'm trialing quite a few of them here to find one that doesn't drop. This partial parthenocarpy that Ram was speaking of sounds like the likely answer and I believe it's very possible that not all of the strains of Pastiliere have it as bad as others or at all. Pastiliere (Raintree) drops quite a bit and I feel like is not the true French Pastiliere that is really loved all over Europe.
I don't understand the new research to say what the mechanism at play is. But just like Celeste, individual trees seem to go through changes, so it could be that any individual strain may change one way or another as well.
A few noteworthy figs from my potted trees. I only get dozens not hundreds from each potted variety a year, but they are tasty enough to be worth it.

Moscatel Preto has been ripening a few daily for the past couple of weeks. They are so big and tasty. A drop of honey forms at the eye which blocks ants from entering.
These later ripening Col de Dame Gris have better pulp color than the super early ones.
Andrew, don't o/d on those good looking figs.
I've been eating at least 20 figs daily of all shapes and sizes. Some of the large varieties like M. Preto are nearly a meal in themselves when consumed with a glass of milk. Hope to try Smith next year. Your cutting grew to 4 feet tall already. It's too bad you had to pluck all the fruit off the airlayer— stupid postal service! They are such large fruit!
Mel do algarve very good honey fig

Longue d'Aout big size good quality fig.
A single Bourjasotte Grise from a first year tree. No more will ripen in time this year, but a lot formed late. It looks like it'll be productive next year. The tiny fig itself wasn't great but I didn't expect very much.

Last year I ate one or two figs from my first leaf Bourjasotte Grise, and it/they were excellent! It is a variety that I intend to keep. I have a lot of Mount Etna's and their flavors are very similar. I'll get rid of some of these and replace them with more unique flavor varieties, like B Gruse for instance.
Yes, I keep a lot of the unique varieties in pots for diversity. My many Mt Etnas will eventually all go in ground since I get excellent productivity from them when grown in that way in my climate.
I've actually got 2 B. Grise but they both have very different leaves. Not sure if I'll get any ripe figs off my 2nd tree but it looks suspiciously like a CdD of some sort or another.
Today I got figs off 1st year trees of Socorro Black and Kesariani. Kesariani was a bit diluted from rain. Socorro Black was excellent with a unique strong berry flavor. Thanks @tonyOmahaz5 for the tip. It's super vigorous and will yield many dozens next year.

Kesariani to the left and Socorro Black on the right
This was shot last year, but Nicole and her husband ran off to Europe to do an olive episode.
I really liked the video. Impressive fig farm in PA!
Really nice production on that. I'm glad content creators like that exist but they're kind of exhausting to watch.